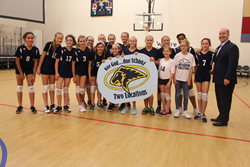 At PCA North, we have a very special place where our kids are receiving an incredible and rigorous education while at the same time being prepared to be disciples that will make an impact on the next generation for Christ.
PLANO, Texas (PRWEB) December 06, 2017
Prestonwood Christian Academy Head of School, Dr. Larry Taylor, Board of Trustees, and Senior Pastor of Prestonwood Baptist Church, Dr. Jack Graham, announce plans to add a High School at the PCA North campus in Prosper. PCA North is currently part of PCA's School System which consists of two elementary schools (Plano and Prosper), two middle schools (Plano and Prosper), a high school (Plano, and soon to be Prosper), a virtual academy, and St. Timothy Christian Academy, a school for unique learning needs. PCA North is in its fourth year of existence and offers Biblically-based education to Pre-School-three-year-olds through seventh grade. This strategic announcement includes adding a grade every year through the first graduating class of 2023. PCA's System is one of the largest private and Christian schools in the Metroplex, and is currently serving over 1,600 students.
PCA's School System is fully accredited through AdvancEd and the Association of Christian Schools International (ACSI). PCA is one of only eleven Christian schools in the nation earning Exemplary Level Accreditation. "The quality of a PCA education continues to strengthen. Multiple assessment instruments confirm that our students are learning at, or above, their ability level. These objective measurements, such as the standardized test scores, our AP-Advanced Placement Scores, the Duke Talent Search Testing, and our SAT and ACT Test Scores reveal key data that we track and analyze," Dr. Taylor shared. Dr. Taylor added, "Although the scholastic and co-curricular programs are strong, at the very core of our mission is to produce followers of Jesus Christ. Students who can enter the university, and then the world, fully confident in their belief system, but also competent in the areas of business, law, medicine, ministry, education and beyond."
Prestonwood Christian Academy is a ministry of Prestonwood Baptist Church. Reflecting on this significant decision, Dr. Jack Graham, Senior Pastor of Prestonwood Baptist Church said, "I believe we have, and continue to build, the finest Christian school in America. PCA is a positive influence on our church and community, and it is obvious that God is doing great and mighty things here."
Mike Daugherty, PCA North parent and Board of Trustees member, sees the expansion as an opportunity for students to continue their academic and spiritual growth. "The addition of an Upper School and expansion through 12th grade is an exciting milestone in the life of Prestonwood Christian Academy North. Just four years ago, a small group of families came together to launch PCA North under the PCA School System. Knowing our students will now have the opportunity to continue their Christian education through the 12th grade is truly a blessing and a gift from God. At PCA North, we have a very special place where our kids are receiving an incredible and rigorous education while at the same time being prepared to be disciples that will make an impact on the next generation for Christ," Daugherty said.
Prestonwood Christian Academy North has a strong Lower School program encompassing PK3 through fourth grade. Learning is interactive and hands-on and PCA students score above the national average in every academic area. All courses are taught with a biblical worldview and students learn at an early age to care for and pray for others. As with PCA's Lower School, PCA Middle School teachers know that learning occurs best when students are engaged and interacting. Through PCA's STEM endowment, the Middle School science department provides students with cutting-edge experiences inside and outside the classroom. PCA North students compete in spelling bees, Math Olympics, speech meets, art competitions, and athletics. And, a Future Problem Solvers International team was added this year.
Dr. Chris Kouba, PCA parent and Lead Pastor of the North Campus of Prestonwood Baptist Church is looking forward to the growth of the school as the northern corridor continues its explosive growth, "With over four families per day moving into the city of Prosper alone, in addition to the explosive growth in North Frisco, Northwest McKinney, Little Elm, and Celina, you are starting to see more and more fields turn into construction sites for new retail, new homes, and new planned developments. Every year school districts are building and adding new schools and all are preparing for the growth that has moved from 'coming' to now 'here.' This growth provides PCA North an incredible opportunity not just to get in on the advancement and development of the area, but to expand and build and grow something that will far outlast any of these new buildings or facilities and that is hearts and minds shaped and molded by a Kingdom education. There is simply nothing more important than investing in the next generation and PCA North does that through Kingdom education," said Dr. Kouba.
PCA North Principal, Donna Leadford is ready for the challenge, "I've often said that PCA North has the best of both worlds. We have the fun and excitement of growing a new campus, but the benefits of being a part of an exceptional 21-year-old school. We opened our doors in 2014 as a Lower School, but quickly grew to serve Middle School students as well. Currently, we serve students in PK3 through seventh grade and we will continue adding a grade level per year in eager anticipation of the first PCA North graduating seniors."
About Prestonwood Christian Academy
Prestonwood Christian Academy serves more than 1,600 students enrolled at three campuses: Plano (Pre-Kindergarten 3 through 12th grade), PCA North in Prosper (Pre-Kindergarten 3 through 8th grade) and PCAplus Virtual Academy. The school has been recognized as having one of the strongest Christian education programs in the country providing intentional biblical worldview training and integration. PCA places great value on the growth of students' spiritual health in addition to their scholastic endeavors and co-curricular activities. In addition to PCA's spiritual development plan, the school promotes a rigorous Liberal Arts academic program. The graduating class of 2017 was offered more than $10 million in scholarships for academics, arts and athletics from universities and other institutions of higher learning. PCA is currently accepting applications. Interested families are invited to take a campus tour or attend an upcoming School Preview to learn more! Details and registration are available at http://www.prestonwoodchristian.org/admissions. Families may also call 972.930.4010 to schedule a Thursday tour.