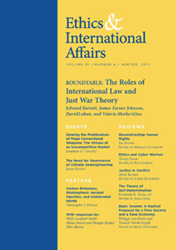 EIA occupies a unique and crucial niche in the way that it puts practical ethical questions at the center of the burning issues in international relations, world affairs, and international public policy. It is also fantastic for teaching purposes.
(PRWEB) December 11, 2017
Carnegie Council presents the Winter 2017 issue of "Ethics & International Affairs." It contains essays by Jonathan D. Caverley on how to slow the proliferation of major conventional weapons and Janos Pasztor on why international governance of geoengineering is so desperately needed; a roundtable on the overlapping relationship between the laws and the ethics of war, with contributions from David Luban, Valerie Morkevicius, James Turner Johnson, and Edward Barrett; a feature by Christopher J. Preston comparing the relative moral culpability of a carbon emitter to that of a benevolent climate engineer, with responses from Holly Lawford-Smith, Sikina Jinnah and Douglas Bushey, and Mike Hulme; and book reviews from Michael Goodhart, Ryan Jenkins, Sophie Rosenberg, Anna Stilz, and Matt Zwolinski.
Access the entire issue here: https://www.ethicsandinternationalaffairs.org/2017/winter-2017-issue-31-4/
TABLE OF CONTENTS
ESSAYS
Slowing the Proliferation of Major Conventional Weapons: The Virtues of an Uncompetitive Market
Jonathan D. Caverley
The Need for Governance of Climate Geoengineering [Full Text]
Janos Pasztor
ROUNDTABLE: THE ROLES OF INTERNATIONAL LAW AND JUST WAR THEORY
Introduction [Full Text]
Just War Theory and the Laws of War as Nonidentical Twins
David Luban
Looking Inward Together: Just War Thinking and Our Shared Moral Emotions
Valerie Morkevičius
A Practically Informed Morality of War: Just War, International Law, and a Changing World Order
James Turner Johnson
On the Relationship Between the Ethics and the Law of War: Cyber Operations and Sublethal Harm
Edward Barrett
FEATURE
Carbon Emissions, Stratospheric Aerosol Injection, and Unintended Harms
Christopher J. Preston
CARBON EMISSIONS, SAI, AND UNINTENDED HARMS: THREE RESPONSES
The Comparative Culpability of SAI and Ordinary Carbon Emissions
Holly Lawford-Smith
Bringing Politics into SAI
Sikina Jinnah and Douglas Bushey
Calculating the Incalculable: Is SAI the Lesser of Two Evils?
Mike Hulme
REVIEWS [All Full Text]
Reconstructing Human Rights: A Pragmatist and Pluralist Inquiry into Global Ethics
Joe Hoover
Review by Michael Goodhart
Ethics and Cyber Warfare: The Quest for Responsible Security in the Age of Digital Warfare
George Lucas
Review by Ryan Jenkins
Justice in Conflict: The Effects of the International Criminal Court's Interventions on Ending Wars and Building Peace
Mark Kersten
Review by Sophie T. Rosenberg
The Theory of Self-Determination
Fernando R. Tesón, ed.
Review by Anna Stilz
Basic Income: A Radical Proposal for a Free Society and a Sane Economy
Philippe van Parijs and Yannick Vanderborght
Review by Matt Zwolinski
Briefly Noted
ABOUT "ETHICS & INTERNATIONAL AFFAIRS"
"Ethics & International Affairs" aims to help close the gap between theory and practice (and between theorists and practitioners) by publishing original articles, essays, and book reviews that integrate rigorous thinking about principles of justice and morality into discussions of practical dilemmas related to current policy developments, global institutional arrangements, and the conduct of important international actors. Go to https://www.ethicsandinternationalaffairs.org/