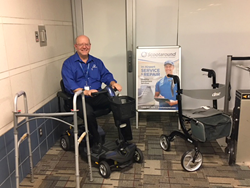 Our goal is to make Minneapolis-St. Paul International Airport as accessible as possible to all travelers.
MINNEAPOLIS (PRWEB) December 06, 2017
Just in time for the holiday travel season, Minneapolis-Saint Paul International Airport (MSP) has a new resident in its Terminal 1 baggage level: a Scootaround mobility equipment service and repair station.
The station, which opened in early-October as a beta test, is the first of its kind in the country, and will make it easier for travelers to receive quick repairs to their damaged wheelchairs, powerchairs, and scooters. The new location will also be able to facilitate full equipment replacements when necessary.
"Our goal is to make Minneapolis-St. Paul International Airport as accessible as possible to all travelers," said Brian Ryks, CEO of the Metropolitan Airports Commission, which owns and operates MSP. "Scootaround's presence at the airport ensures that people who depend on mobility equipment have quick, convenient access to repair services and short-term rentals of mobility devices if needed."
Since opening, the station has received claims from a number of airlines – including Delta and United – and has repaired damage to rollators, wheelchairs, and more.
Kerry Renaud, President and COO of Scootaround, added, "Each year, thousands of airline passengers travel with their assistive devices. This equipment, which is often essential to the passenger's mobility, can sometimes be damaged during transit. Scootaround's in-airport office at MSP provides an efficient, one-step repair or replacement service for passengers and airlines alike."
In addition to repairs, Scootaround will also be able to arrange equipment rentals for residents and visitors to Minneapolis-St. Paul, whether they're attending a convention, seeing a concert, or heading to a major sporting event like Super Bowl LII.
Scootaround is the nation's leading provider of mobility equipment solutions, offering rental and repair services for scooters, wheelchairs, powerchairs, and rollators at over 2,000 locations across North America.
MSP serves the Minneapolis-St. Paul area, as well as the suburban cities of Bloomington, Eagan, Mendota Heights and Richfield. It is the 16th busiest U.S. airport for passengers and 15th for aircraft operations.