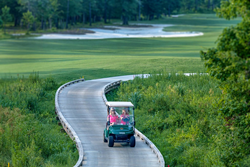 Top Golf Courses in North Carolina
WILMINGTON, N.C. (PRWEB) December 06, 2017
The sixth annual American Society of Golf Course Architects Design Excellence Recognition Program honorees have been named. Projects from 11 courses have been cited for their work with ASGCA members in addressing unique design challenges. Since its creation, the Design Excellence Recognition Program has highlighted the innovation and problem-solving skills required of today's golf course designs, from new 18-hole layouts to practice facilities and renovations of various sizes.
The 2017 nominations were reviewed by a panel of golf industry leaders, including representatives of the Club Managers Association of America, Golf Course Builders Association of America and Golf Course Superintendents Association of America.
Compass Pointe Golf Club in Leland, North Carolina designed by Rick Robbins, ASGCA, & Brian Lussier, ASGCA is defined as one of the "wonderful golf facilities" says ASGCA President John Sanford, ASGCA. "The projects recognized here continue the tradition of the Design Excellence Recognition Program; well-designed facilities that make a positive impact on the game to benefit golfers and their communities."
Development of the new, 2,300 acre resort style retirement community had begun before the 2008 financial crisis crippled the golf and housing industries. Working within the constraints of environmental requirements and financial limitations while still creating a golf course that would be an asset to real estate sales was the challenge.
The solution involved many approaches, including new golf routing to fit within existing wetlands; designing/maintaining the course to meet Audubon International standards; adding Family Tees so each hole may be played as a par 3; and using existing features of vegetation, wetlands, sandy soils to create a natural style course to reduce construction costs.
Compass Pointe has received a number of significant awards over the past few years which include Happiest Community of the Year by Real Estate Scorecard and Best Neighborhood designation by Where to Retire magazine. Folks are drawn to the island-themed resort community because of the friendliness of the people and the variety of health and wellness amenities which include a state-of-the-art fitness center, tennis and pickleball courts, Olympic-size swimming pool and walking trails. The curb appeal is beautiful. Lawns are meticulously manicured accents by palm trees and colorful flowers. The gated community is golf cart friendly making it easy to get around.
The social infrastructure is second to none. There's always something going on from themed-seasonal festivities to charitable events that support the local community. Located just 10 minutes from downtown Wilmington, residents can quickly step into the rich cultural atmosphere and restaurant scene.
Compass Pointe is quite affordable. New homes in the golf community begin in the mid $300's. Knowing not everyone is a golfer, Compass Pointe's golf membership is optional. With approximately 400 homes built to date of the 2,000 planned, Real Estate Scorecard expects more accolades are on the horizon from one of the best neighborhoods in Wilmington NC.
Contact Compass Pointe at 888.717.6468 to check on Discovery Package availability and to schedule a tour.
About Real Estate Scorecard:
Real Estate Scorecard writes unbiased real estate reviews providing in-depth information about popular gated communities in Florida, Georgia, the Carolinas and Tennessee and Central America, all in an effort to help people discover where to retire in the South.
Website: http://realestatescorecard.com