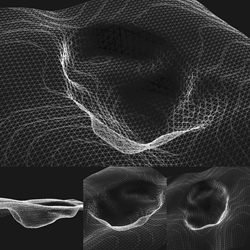 Advances in consumer electronics, including the development of AR, is opening new possibilities in wound care.
FAIRFAX, Va. (PRWEB) December 12, 2017
eKare Inc., a technology company specializing in advanced imaging for wound care, expands its product lineup to include the newest advances in iOS platform. The inSight® 2.0 for iOS will combine iPhone X's built-in optics with eKare's proprietary algorithms to deliver 3D wound measurement capabilities.
eKare's inSight® is currently serving hospitals, academic medical centers, and biologics & pharmaceutical companies worldwide. inSight® addresses the unmet need for accurate and consistent measurement in wound care. Building on top of its first generation product (based on iPad® & Structure Sensor), inSight® 2.0 for iOS delivers the same measurement performance on iPhone X without touching the patient or requiring a reference marker.
"This is a very interesting time for healthcare. Advances in consumer electronics, including the development of AR, is opening new possibilities in wound care," says Kyle Wu, MD, Chief Medical Officer of eKare Inc.
eKare's new algorithms create a detailed 3D reconstruction of the wound through simply point-and-shoot. The resulting depth map, containing about half a million data points, enables full 3D wound measurement directly on the iPhone. This depth map, along with other clinical parameters, contributes to eKare's analytics platform.
"Because wound management is such a ubiquitous and integral part of healthcare, our goal is to make useful technologies like inSight® truly accessible to clinicians both with regards to usability and price," says Travis Smith of eKare. "By incorporating our computer vision capabilities to the latest iOS platform, we are delivering just that."
About eKare 
eKare Inc. is dedicated to the design and development of wound assessment solutions, including 3D wound dimensions and tissue classification capabilities, using the latest computer-vision and mobile technology. eKare's innovative technology is creating new possibilities in how we deliver wound care across the healthcare continuum, from inpatient hospital and skilled nursing facilities to ambulatory clinics and telemedicine. eKare's mission is to advance the science and delivery of wound care by leveraging mobile and sensor technologies to connect patients, providers, and industry. 
http://ekare.ai
Apple, iPhone, and iPad are trademarks of Apple Inc. 
Structure Sensor is a trademark of Occipital Inc.