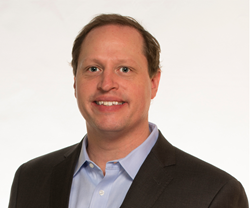 ST. LOUIS (PRWEB) December 06, 2017
Maritz Motivation Solutions, a leader in providing channel sales incentive and loyalty programs to U.S. and global companies, announced that it has appointed Cameron Conway vice president of the company's sales performance and channel loyalty practice. Conway brings to Maritz more than 20 years of experience in marketing and customer loyalty strategy and research, including channel sales and distribution.
"We are combining behavioral and decision sciences with our expertise in program design to develop solutions that create value for our clients. Cameron's experience and knowledge will help us ensure our solutions drive incremental sales and profit through stronger relationships with sales partners and end customers. He will be an invaluable addition to our team," said Drew Carter, president of Maritz Motivation Solutions.
"Maritz Motivation Solutions has decades of experience working with clients to improve direct and channel sales performance through incentive and engagement services. I am excited to join this stellar team and apply my knowledge of sales dynamics and channel incentives for us to build on the world-class solutions we provide our clients," Conway said.
Prior to joining Maritz Motivation Solutions, Conway served four years with Red Hat, holding executive marketing positions including director, North American field marketing, director, customer insights, and strategic marketing director. Previously, he was director, business consulting at Satmetrix and served as lead consultant at Fair Isaac Corporation.
Earlier in his career, Conway held senior marketing positions with CNBC.com, NBC Universal, and their parent company General Electric.
About Maritz Motivation Solutions
Maritz Motivation Solutions helps companies drive growth by unlocking people potential through consumer loyalty, employee engagement and sales incentive programs. Maritz programs strengthen relationships and improve our clients' business results by making customers more loyal to a brand, employees more engaged in their workplace and salespeople motivated to sell. For more than a century, the Maritz brand has been synonymous with exceptional service, quality and innovation. Leveraging unsurpassed industry experience, decades of behavioral science research and a proprietary approach to data and decision sciences, Maritz can motivate human performance like no other company in the world. Today, more than 100 million people participate in client programs representing industries including hotels, airlines, pharmaceutical, automotive and financial services. For more information, visit http://www.maritzmotivation.com, subscribe to our blog, follow us on Twitter or call 1-877-4-Maritz (1-877-462-7489).