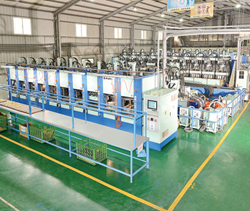 GIG HARBOR, Wash. (PRWEB) December 11, 2017
PopFoam — a custom manufacturer of a proprietary EVA-based injection molded foam used in several markets, including automotive, medical, fitness, and recreational markets — is expanding its operations by adding a U.S.-based manufacturing partner to increase production capacities and offer a U.S.-based production option to its North American customer base. The operation will be in production early December 2017.
With the latest addition to operations located in the Pacific Northwest, the new facility brings PopFoam's production into three countries and five production facilities.
"Increased production demands also have our Taiwan and China manufacturing facilities expanding operations," said Steve Cartier, co-founder and director of engineering at PopFoam. "We saw an excellent opportunity for a U.S. facility to serve our customers' needs while offering research and development closer to our engineering and sales office. PopFoam's hands-on designer collaboration is one of its strongest competitive differentiators, and our team believes this new facility will enable better designer support and injection molded foam development into even more markets. We'll continue to offer full services in engineering and design, sales, and project management for our customer base. This is another move to stay on the forefront of injection molded foam products technology."
PopFoam is lightweight, 100 percent waterproof, chemical resistant, and virtually indestructible. PopFoam will offer the same EVA compounding blending technology and its proprietary compounds to include PopFoam NT (Non Toxic) and PopFoam UD (Ultra Durable).
"There are applications where we need U.S.-based production and a faster delivery schedule," said Troy Lewis, co-founder and VP of sales and marketing of PopFoam. "This partnership allows us to grow our brand to the next stage by being more responsive to customer needs."
About PopFoam
PopFoam has been serving global brands, established OEMs, and entrepreneurial inventors since 1999. We've refined a superior process for injection molding foam, from engineering to tooling and EVA manufacturing to final assembly. With manufacturing and fulfillment partnerships across Southeast Asia, PopFoam provides tailored solutions that are as unique as your ideas. PopFoam manufactures BackShield and the One World Futbol, which has delivered the power of play to more than 54 million people. Please contact us at http://www.popfoam.com/contact/.