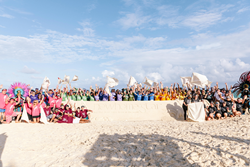 CHICAGO (PRWEB) December 06, 2017
New Home Star, the largest private seller of new homes in America has been honored with a Glassdoor Employees' Choice Award, recognizing the Best Places to Work in 2018. The Employees' Choice Awards program, now in its 10th year, relies solely on the feedback of employees via Glassdoor. New Home Star's number two position makes it the highest ranked real estate company since the inception of the list.
"We are continuously inspired and encouraged by the positive feedback we receive from our employees through Glassdoor," said David Rice, founder and CEO of New Home Star. "We celebrate our top two position on this list, but our vision is to build the best sales team in the world and we still have work to do."
Rice noted that annually, the Glassdoor list of best places to work is dominated by tech companies, so it's quite the exception for a service company to be ranked so high. "We're a traditional service company that has the privilege of selling the American Dream of new-home ownership, while using exciting and progressive technology to engage our people and drive a world-class culture that rivals some of the most innovative tech brands in the nation," said Rice.
Ten years ago, the housing crash changed the trajectory of the real estate industry and drove many potential job applicants away, but things have changed for this Chicago-based firm. "We see upwards of 2,500 applicants a month interested in a career with us, and most of our millennial candidates research our culture and workplace extensively before ever making contact," explained Rice.
On Glassdoor, current and former employees of companies worldwide can share insights and opinions about their work environments by sharing a company review, designed to capture a genuine and authentic inside look at what it's like to work at particular jobs and companies. When sharing a company review on Glassdoor, employees are asked to rate their satisfaction with the company overall, and key workplace factors like career opportunities, compensation, benefits, work/life balance, senior management, as well as culture and values. In addition, employees are asked to describe the best reasons to work at their companies as well as any downsides.
"We know today's job seekers are more informed than ever about where they go to work, researching everything from company culture to career opportunities to pay philosophy and more. To help people find companies that stand out from the pack, the Glassdoor Employees' Choice Awards recognizes employers that are truly Best Places to Work because they're determined by those who really know best - the employees," said Robert Hohman, Glassdoor CEO and co-founder. "Employers where employees love to work continue to prove that they have a recruiting and business performance advantage. We're proud to celebrate the 2018 winners as we mark our 10th anniversary of the Glassdoor Employees' Choice Awards."
The Best Places to Work are determined using company reviews shared by U.S.-based employees between Nov. 1, 2016 and Oct. 22, 2017. To be considered for the small and medium category, a company must have less than 1,000 employees and have received at least 25 ratings across eight workplace attributes from U.S.-based employees during the period of eligibility. The final list is compiled based on Glassdoor's proprietary algorithm, and takes into account quantity, quality and consistency of reviews.
For the complete list of the Glassdoor Best Places to Work in 2018, please visit: https://www.glassdoor.com/Award/Best-Small-and-Medium-Companies-to-Work-For-LST_KQ0,43.htm
About New Home Star
Founded in 2008, New Home Star is the largest private seller of new homes in the U.S. Leveraging state-of-the-art technology to channel decades of experience into engaging sales training and operational tools, New Home Star rapidly transforms newly hired sales professionals into competitive advantages for builder partners. Working with a builder base that includes some of the largest homebuilders in the U.S. and Canada, New Home Star recruits, selects and develops sales teams with a full-time focus on new home sales delivering new home sales strategies with a national perspective and a local presence. The business goal is simple: To Sell More Homes, More Profitably™. For more information visit http://www.newhomestar.com.
About Glassdoor
Glassdoor is one of the largest and fastest growing job sites in the world today. Set apart by the tens of millions of reviews and insights provided by employees and candidates, Glassdoor combines all the jobs with this valuable data to make it easy for people to find a job that is uniquely right for them. As a result, Glassdoor helps employers hire truly informed candidates at scale through effective recruiting solutions like job advertising and employer branding products. Launched in 2008, Glassdoor now has reviews and insights for approximately 700,000 companies in more than 190 countries. For labor market trends and analysis, visit Glassdoor Economic Research. For company news and career advice and tips, visit the Glassdoor Blog and for employer-related news and insights to help employers hire, visit the Glassdoor for Employers Blog. Visit Glassdoor.com or download our apps on iOS and Android platforms. Media Contact: Alison Sullivan, pr@glassdoor.com.
Editors
For more information or to schedule an interview with David Rice, contact Robin Plous at (312) 267-4512 or rplous@taylorjohnson.com.