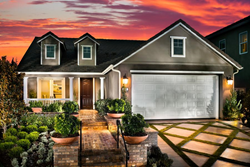 We're honored to have received two awards recognizing our architecture and design teams in one of the industry's most important award programs – Ash Knowlton, McCaffrey Homes
FRESNO, Calif. (PRWEB) December 07, 2017
McCaffrey Homes, a leading local family homebuilder in California's Central Valley, has been honored with two prestigious 2018 Silver Awards in The National Sales and Marketing Awards from The National Association of Home Builders (NAHB). Competing with homebuilders from across the nation, McCaffrey was recognized for excellence in architectural design and interior merchandising.
Known as The Nationals, NAHB's annual new home sales and marketing awards salute the best in the building industry for their determination, integrity, creativity and endurance.
"The Nationals are the most prestigious awards of their kind, setting the benchmark for innovations in new home design, marketing and sales," said Meredith Oliver, chairperson of the Nationals. "NAHB's commitment to recognizing originality, imagination and success has been exemplified by its award winners since the competition's inception."
Silver Award winners are the top vote recipients in each category and are finalists for the Gold Awards, to be presented January 10, 2018 at The International Builders Show (IBS) in Orlando, Florida.
McCaffrey Homes was honored in the category of Best Architectural Design for a Single Family Detached Home from 2,501 to 3,000 square feet. The award recognizes The Ivy at Riverstone – Residence 3, designed by Bassenian Lagoni Architects. The Ivy at Riverstone community is a collection of 106 single-family homes with four all-new, single-story and two-story floor plans that set fresh new standards for housing design.
The third-generation home building firm was honored with a second Silver Award – for Best Interior Merchandising of a Model Priced from $300,000 to $500,000 – for the Residence 1 model in the Santerra at Riverstone community. Three additional model homes are located in Santerra at Riverstone, as well.
"We're honored to have received two awards in one of the industry's most important award programs," said Ash Knowlton, president of construction for McCaffrey Homes. "Both are a testament to the vision and skill of our extraordinary architecture and interior design teams."
"These two distinctive new neighborhoods in the Riverstone community celebrate California living at its best," Knowlton added. "Our new home designs artfully blend indoor and outdoor space in creative, beautiful and useful ways that will provide years of comfort and enjoyment for homeowners."
Started in 1982 as the Institute of Residential Marketing, The Nationals award program continues to recognize superior new home sales and marketing achievements. With 57 categories across various disciplines of the new home industry, the awards honor excellence in product and community design, advertising, marketing and sales achievements by individuals and sales teams.
During a three-day judging process, a panel of seven industry professionals from across the country determined the Silver and Gold award winners from a field of over 1,300 entries.
To view silver award winners or to order tickets to the event, visit http://www.thenationals.com.
About McCaffrey Homes
McCaffrey Homes is dedicated to building homes that last a lifetime while meeting the needs of homebuyers at every stage of life. With three generations of experience, the McCaffrey team has built more than 9,000 homes and been honored nationally and locally for the quality of its construction and service.
Currently, McCaffrey Homes is building three neighborhoods in Madera and Clovis, California: the Santerra and Ivy neighborhoods at Riverstone, a new master-planned community in Madera – and Santerra Clovis, the company's newest community in Clovis, Calif. McCaffrey has also broken ground on Tesoro Viejo, their own 1,600-acre master-planned community in Madera, which won the 2016 Outstanding Planning Award in Innovation in Green Community Planning.
For more information, visit https://www.mccaffreyhomes.com/ and http://www.tesoroviejo.com/.