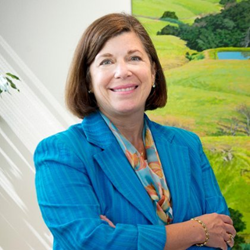 KENNEWICK, Wash. (PRWEB) December 07, 2017
The Children's Reading Foundation today announced that Cheryl Dell, former newspaper industry publisher, has been selected to serve on its board of directors.
Dell recently retired after spending more than 30 years in the newspaper industry. She spent the last 20 years with The McClatchy Company, serving as publisher for The Tri-City Herald in Kennewick, Washington, The News Tribune in Tacoma, Washington, and The Sacramento Bee in Sacramento, California. Under her leadership, those three papers won more than 2,000 awards for circulation, advertising and news, receiving recognition in every major journalism contest including The Pulitzer Prize.
"We are honored to welcome Cheryl to the board," said Nancy Kerr, board president. "Her vast leadership experience and philanthropic spirit will be a valuable addition as we continue to grow and serve more families, schools and communities."
Throughout her career, Dell has given back to the community through the pages of the newspapers she published and with volunteer hours.
"Reading is a foundational skill that helps children reach their full life's potential," said Dell. "I've admired the foundation's success for many years and am excited to be part of such a dynamic, successful organization."
Dell served on the board of directors for dozens of nonprofit organizations including several United Way organizations, economic development groups, MLK 365 (an organization devoted to furthering the dreams of Martin Luther King), The Sacramento Tree Foundation, and the Washington State Historical Society. Dell also served as chairman of the board and on the executive committee of the Inland Press Association. The association is one of the largest newspaper membership organizations, serving more than 1,000-member newspapers in the United States.
Dell has two degrees from Sacramento State, a Bachelor of Communications and a Doctorate of Humane Letters. She also holds a Doctorate from Drexel University. Dell lives in Nevada City, California.
About The Children's Reading Foundation: The national nonprofit was founded in 1996 in Kennewick, Washington, with the vision that every child learns to read at grade level by the end of third grade, thereby reaching his or her full potential in school and life. The foundation delivers national programs focused on reading skills and school readiness for children birth to age 8. The Children's Reading Foundation helps establish local chapters in communities across the country. Learn more at ReadingFoundation.org.
###