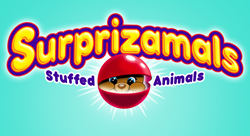 SANTA CLARITA, Calif. (PRWEB) December 06, 2017
The Beverly Hills Teddy Bear Company, a 25-year-old toy company, has had one of it's best years yet with it's new line Surprizamals. Not only was it nominated as Plush Toy of the Year and was on the Heavy Hot List for Best New Toys of 2017, it has just been announced as the Hottest Toy in New Zealand for 2017. Being the first plush line to enter the blind capsule space, Surprizamals has been a worldwide hit since it's launch in 2016. "Surprizamals being an international success is such an accomplishment for our company. The team here has worked extremely hard and it's paid off in a big way," said David Socha, CEO of Beverly Hills Teddy Bear Co.
Surprizamals are unique in that not only are they cute, high quality plush, they also have an incredible collector appeal that makes kids want to trade and collect them all. Since the Surprizamals are hidden inside a ball, you never know which one you'll get. Kids all over the world continue to search for their favorite characters and are on the hunt for the ultra rare characters.
You can find Surprizamals in almost 70 countries worldwide including US and Canada.
About Beverly Hills Teddy Bear Company:
BHTB Co. is a full spectrum manufacturer that specializes in custom, private label and licensed toys, gifts and plush for both in-line retail sales and strategic promotions. For over 20 years, BHTB Co. has partnered with established companies worldwide to design, create and manufacture safe, high quality merchandise designed to work across all channels of trade.