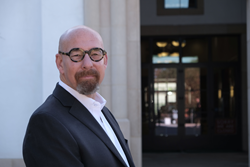 GLOW's history of success is impressive, and its client list speaks volumes about the quality of the agency and expertise.
NEW YORK (PRWEB) December 07, 2017
GLOW, a leading social and digital marketing agency, announced their expansion to include the opening of a West Coast presence in Los Angeles. It also announced the appointment of entertainment industry veteran Randy Malinoff to its new position of Chief Growth Officer for the West Coast.
The move is a natural progression of continued growth for the agency, which has built a strong reputation in entertainment marketing. The new presence will allow GLOW to capitalize on its marketing expertise to enhance service to existing clients and expand its roster. The agency has created successful social and digital campaigns for marquee clients, including HBO, Spotify, Hulu, Viacom and IFC.
Malinoff, previously COO & Executive Vice President of Wizard World Comic Con and Head of Direct to Consumer e-commerce at Universal Music Group, will develop and manage GLOW's West Coast business. In that capacity, he will work closely with movie studios, television networks, music companies, talent, and select content creators.
"We are excited to have Randy on board to build a West Coast presence for GLOW," said Peter Levin, CEO. "The move to have an LA presence has always been in the plan. Today our team is stronger than ever, and our depth of expertise will instantly extend a world-class agency offering to the Los Angeles market, the center of the entertainment industry, that will serve both new and existing partners."
"I am thrilled to join GLOW at this exciting point in its history and in this important role in today's competitive environment," Malinoff said. "Its history of success is impressive, and its client list speaks volumes about the quality of the agency and its expertise."
At Universal Music Group, Malinoff led the revenue generation, marketing and development of artist stores for Lady Gaga, Justin Bieber, Maroon 5 and many others. Before that, he was Senior Vice President of Digital at NBCUniversal, leading strategy and digital marketing for such box office hits as The Fast and the Furious, Dr. Seuss' How the Grinch Stole Christmas, Bring it On, The Lost World: Jurassic Park, and Meet the Parents.
"I have known Randy for more than fifteen years and worked closely with him when he was at NBCUniversal," said Howie Kleinberg, GLOW COO and President. "We collaborated on numerous digital marketing campaigns for marquee titles including The Fast and The Furious, 8 Mile, Meet the Parents, ET, and Slap Shot. I'm excited to be working with Randy again, as we continue to strengthen the agency, expand our roster, and create a stronger presence on the West Coast. His success in the entertainment industry and innovative approach toward marketing aligns perfectly with our passion for creating long-term relationships and award-winning work."
About GLOW
GLOW is an award-winning social, marketing and creative agency headquartered in New York City. With an 18-year history as a leader in the digital space, GLOW provides innovative social strategies, develops content and best in breed executions and manages and grows social communities for a range of clients who are considered the most successful in their respective industries. Our passionate, collaborative culture and wide range of integrated capabilities provides our client partners with strategies and campaigns that solve key business problems and generate measurable results.