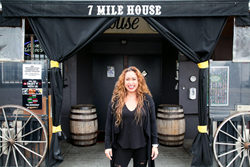 I feel I owe it to those who started 7 Mile House, and those who continue to make it a special place, to share these stories. 7 Mile is what it is because of all these people, and I think it's only proper to keep their memories and stories alive. - Vanessa Garcia, Owner
BRISBANE, Calif. (PRWEB) December 06, 2017
The historic 7 Mile House, an award-winning restaurant, sports bar, and live music venue in the San Francisco Bay Area is celebrating 160 years of business (for the second time), since opening their doors in 1858. Along with the anniversary celebration, owner Vanessa Garcia is self-publishing the first book written about the history of 7 Mile House, taking on the responsibility as historian and guardian of the only Bay Area "mile house" left standing in its original location. The book titled, "See You At The 7 - Stories From the Bay Area's Last Original Mile House," is co-authored by award-winning editor Regina Abuyuan, with a foreword by San Francisco Chronicle columnist Carl Nolte (Native Son). The book contains old maps of the area, historic photos, and interviews with locals who recount their experiences at 7 Mile House over the years.
The venue's transformation from stagecoach stop, brothel, and infamous sports gambling den, to the family and dog-friendly restaurant, sports bar, and live music venue that it is today is a testament to 7 Mile House's colorful reincarnation throughout the decades, and the love and dedication that Garcia has put into the business. Garcia originally thought that the mile house was established in 1853, but discovered she had been wrong all these years while doing research for the book. The correct year is 1858, giving them the unique opportunity to celebrate 160 years once again.
Obsessed with its history since she took over in 2004, Garcia has collected trivia and bits of information from various sources—old regulars, employees, and descendants of old owners. It was only early this year, however, that she finally found the time to pore over all the documents, maps, periodicals, and books from different libraries and government offices.
"I've always been fascinated by this place's history," Garcia says. "Whenever old regulars come in, I make it a point to keep in touch. I feel I owe it to those who started 7 Mile House, and those who continue to make it a special place, to share these stories. 7 Mile is what it is because of all these people, and I think it's only proper to keep their memories and stories alive."
The book launch and anniversary party will take place on Friday, January 26, 2018, at 2800 Bayshore Blvd. Brisbane, CA 94005. Come early and pick up a to-go bowl of their famous Pork Adobo and Rice for free. (Beginning at 11:30am while supplies last). The book signing and pick up party is from 3-6pm, (during $5 happy hour!). DJs will be spinning feel good tunes from 4-8pm, followed by the party rocking LP band to close out the celebration from 9:00pm-12:30am. #SeeYouAtThe7
About 7 Mile House:
Established in 1858, the historic 7 Mile House is a family and dog-friendly restaurant, sports bar, and live music venue, serving up a unique mix of homestyle American and Filipino food. Located in the San Francisco Bay Area for 160 years, 7 Mile House is the only Bay Area mile house left standing in its original location. From its colorful history as a stagecoach stop in the 1800s and an infamous sports gambling joint in the 80s, to becoming an award-winning establishment, 7 Mile House boasts great food, drinks, sports via satellite and live entertainment every single night.
About Vanessa Garcia:
Vanessa Garcia, originally from the Philippines, was a drummer, backup singer and original member of the Philippine-based all female pop-rock group 'Prettier Than Pink'. In 1996 she moved to the US, and graduated from Golden Gate University with a Masters in Science degree in Public Relations, and worked as a PR consultant for technology companies such as Sun Microsystems and Sybase. With her music and PR background, and determination to bring life into the historic mile house, Vanessa took over 7 Mile House in 2004 and turned it into an award-winning establishment, her first book "See You at the 7 - Stories From the Bay Area's Last Original Mile House" will be released in January 2018.
About Regina Abuyuan:
Regina Abuyuan is a Manila-based writer, editor, and development communications consultant. She is a seasoned magazine and book editor, having helmed as chief editor five glossies and three best-selling books, including the award-winning book Agam: Filipino Narratives on Uncertainty and Climate Change (Best Anthology in the English Language and Finalist in Design in the 34th National Book Awards, Philippines, 2015; and best book for Literature in English and Special Award for Design in the 2016 Gintong Aklat (Golden Book) Awards). She also won a Gold Anvil (Publications Category, 52nd Anvil Awards, 2017) for "Bayuhay: The Story of Millennium Challenge Account-Philippines."