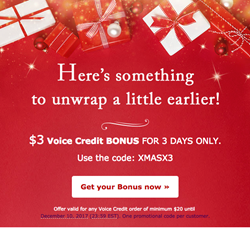 A good time to enjoy an early Christmas gift and save on international calls to Jamaica, by grabbing one of the two bonuses available on TelephoneJamaica.com.
ATLANTA (PRWEB) December 06, 2017
TelephoneJamaica.com, the telecom service facilitating long-distance calls to Jamaica and mobile credit transfers, offers extra international credit on purchases between December 8-10, 2017. More specifically, $3 are added automatically on Voice Credit orders above $20 with coupon code XMASX3, while $2 Bonus applies on all purchases of minimum $15 Voice Credit using coupon code XMASX2 on TelephoneJamaica.com: https://telephonejamaica.com/buy/voice
The main balance as well as the bonus balance never expire. It can be used any time necessary to make international calls with TelephoneJamaica.com calling options: KeepCalling app or using an access number in one's area. Bonus applies instantly in one's account and adds up to the main balance purchased or the existing one.
To receive the $3 calling credit gift, one needs to place an order of minimum $20 using coupon code XMASX3 before 23:59 EST, on TelephoneJamaica.com. The online Voice Credit order takes seconds. For budget purchases of minimum $15 Voice Credit, $2 bonus apply, if coupon code XMASX2 is used in the process, again, before December 10, 2017, EST time.
Payment is also flexible. One can use any major card or PayPal, from any country in the world allowing international transactions.
Those new to this competitive website, who take advantage of this offer, will receive a PIN by email on their first order, and will be able to use it later too, in order to call with KeepCalling app or an access number, that requires no WiFi, 3G or 4G connection.
This Christmas giveaway comes as a way to help Jamaicans worldwide save on their numerous calls home around the jolly holiday. But the expat service makes available other promotions, as well as regular Facebook prizes within the Jamaican community abroad: https://www.facebook.com/telephonejamaica/?rc=p
The calling balance on TelephoneJamaica.com is called Voice Credit and helps one make international calls to Jamaica as well as other destinations, from any country in the world. Voice Credit can also be used for international SMS.
The Android users can also get Voice Credit from the Android calling app, called KeepCalling, available on Play Store / Google Play.
Smartphone users have KeepCalling app that can be installed for free on both Android and iOS devices, and comes with the same benefits as anyone holding an account on SalutHaiti/ TelephoneJamaica:

Free features: Speed Dial, PINless, Auto-Recharge, Voice Prompts
24/7 friendly and prompt support
Loyalty rewards
Regular bonuses and discounts
Online transactions and call history
Purchases in seconds
For those who want to call without depending on WiFi, 3G or 4G, using an access number in their area is the best solution. Rates stay the same, and the steps are simple: one needs to check the access number in his/her area on the Access Numbers page on TelephoneJamaica.com and dial it from any phone available, then the PIN is required and the destination number in international format.
Besides Voice Credit, TelephoneJamaica.com facilitates mobile credit transfers to relatives and friends in Jamaica. The service is called Mobile recharge and the transaction takes 1 minute. No contract is needed and the beneficiary in Jamaica receives the credit immediately. For the moment, one can send credit to mobiles subscribed to such operators in Jamaica as Digicel and Lime / Flow. Digicel makes available Plans as well.
TelephoneJamaica.com is a website serving the Jamaican diaspora in the USA, Canada, Australia, Asia and Europe. It is a brand of KeepCalling, a global telecommunications company registered in 2002 in USA, who launched International Homesickness Day for the first time in history in 2016. Presently, KeepCalling provides its services to hundreds of thousands of consumers , with a focus on customer satisfaction. KeepCalling was listed by Inc 5000 as one of the fastest growing companies in the USA for 5 consecutive years.