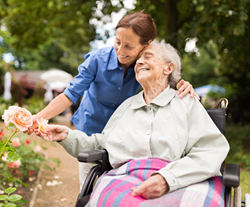 Dementia takes a steady toll on an individual's day-to-day life, and our agency wants to help make life more enjoyable by opening doors for effective treatment
AKRON, Ohio (PRWEB) December 08, 2017
Tonia Maxwell, principal of the Cleveland based Dilger-Maxwell Agency, is announcing the launch of a charity drive in the northern Ohio area to help raise awareness of dementia and provide support to individuals living with dementia and related conditions.
"Dementia takes a steady toll on an individual's day-to-day life, and our agency wants to help make life more enjoyable by opening doors for effective treatment," says Maxwell.
The firm plans to help educate the Akron community and encourage resident participation with a referral-based donation plan. As local residents refer in friends and loved ones to receive no cost insurance quotes, the Maxwell team will issue monetary donations to a local foundation dedicated to assisting those with dementia.
Additional information on the charity drive, as well as a form that allows readers to suggest future charity work for the Maxwell team, can be accessed from this page: http://www.dilgermaxwellagency.com/Rewards-Program_42.
About the Dilger-Maxwell Agency
As a native of Norwalk, Ohio, Tonia Maxwell has built relationships with many families and business leaders in the Cleveland area. With her husband and four children, Maxwell understands small-town life more than most insurance providers, and her team at the Dilger-Maxwell Agency is committed to providing superior service and assisting local families as they protect what's important: your family, your home, your finances, and your life. In addition to offering local families and business owners with earnest and reliable protection, Maxwell and her team can help your family plan a strategy to reach your financial goals. To speak to a helpful representative from Dilger-Maxwell, visit http://www.dilgermaxwellagency.com/ or call (419) 668-8016.