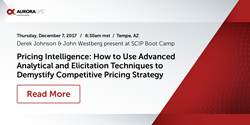 "Pricing intelligence is, arguably, the most challenging competitive insights to collect in a systematic and repeatable manner," said Johnson. "However, through a combination of rigorous analytical techniques and human elicitation techniques, we can learn how to stay one step ahead."
MADISON, Wis. (PRWEB) December 07, 2017
Derek Johnson, Chief Executive Officer for the global intelligence consultancy Aurora WDC will present "Pricing Intelligence: How to Use Advanced Analytical and Elicitation Techniques to Demystify Competitive Pricing Strategy" at the SCIP Boot Camp Conference in Tempe, Arizona on Thursday, December 7, 2017 from 8:30 a.m. to 12:30 p.m. MST. He will co-present with John Westberg, Program Manager, Aurora WDC.
"Pricing intelligence is, arguably, the most challenging competitive insights to collect in a systematic and repeatable manner," said Johnson. "However, through a combination of rigorous analytical techniques and human elicitation techniques, we can learn how to stay one step ahead."
Johnson's intensive half-day session will highlight three specific case studies to help learners understand how they can apply analytical models and human elicitation techniques to the challenges of pricing intelligence. Coursework will include two intensive small group exercises:
1. Cost Analysis & Price/Discount Policy-Making
2. Elicitation Techniques & Skills Development
For those unable to attend the event in person, Aurora WDC will schedule private webinars with interested parties on request.
ABOUT AURORA WDC
Aurora WDC serves organizations worldwide in their efforts to win in the marketplace, deploy technology to amplify insights, and build a culture of intelligence. Its three offerings - Aurora GPS research and analysis services, FirstLight cloud-based intelligence management software, and RECONVERGE social learning community - have been crafted intentionally to serve the needs of intelligence professionals and top executives. Learn how to break through at http://www.AuroraWDC.com.
About SCIP Boot Camp
To excel as a CI professional in today's business environment, one needs to expertly identify opportunities and accurately assess competitive risks. This requires a strengthening of essential skills to enhance the core CI capability. This boot camp will introduce strategy, marketing, finance, intelligence, and insight professionals to the world of CI in a structured, highly interactive and engaging format. Using individual as well as group break-out exercises, role playing, videos, stories, and current case studies, this boot training is suitable for beginners, analysts, managers, directors and vice president level participants. More information is available at http://www.scipbootcamp.com.