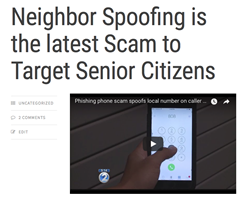 "Too often, issues surrounding senior financial exploitation go unnoticed. We want to be a part of changing that."
WASHINGTON (PRWEB) December 11, 2017
D.C.-based nonprofit The Seniors Center has launched a blog to educate senior citizens about increasing financial threats targeting older Americans.
TheSeniorsCenter.blog, The Seniors Center's new fraud advisory site, focuses on exposing some of the most common techniques scam artists and financial abusers use to bilk senior citizens out of their assets, savings, and even Social Security benefits and identities.
"Too often, issues surrounding senior financial exploitation go unnoticed," said Dan Perrin, President of The Seniors Center. "We want to be a part of changing that."
With this new blog, The Seniors Center joins several nonprofit organizations and social outreach groups already working to increase public awareness of a growing problem not only robbing seniors of their money, but also their peace of mind and even their health.
Just last year, the U.S. Centers for Disease Control launched an extensive report to begin the process of formalizing definitions and better tracking senior abuses, including senior financial abuse. According to the CDC, senior financial abuse should be considered a public health concern.
Echoing this initiative, The Seniors Center hopes to use their new blog to shed some light on the severity of this abuse and offer critical tips, tricks, and warning signs that both seniors and their loved ones can use to spot and prevent fraud before it occurs.
"The Seniors Center communicates with over one million seniors via our website, social media, and traditional mail--we can use that network to spread the word and protect seniors from scammers and financial fraud."
He added that the organization has reached nearly 227,000 visitors through its homepage and social media in just the past month, and regularly reaches out to over 350,000 supporters through petition and survey campaigns.
Through TheSeniorsCenter.blog, Perrin believes a little education can go a long way in keeping our loved ones and us safe from financial predators.
"Our first line of defense against scammers is ourselves. When we learn what to look for, what the warning signs are, and how scammers are contacting seniors and using their information to steal, we can protect ourselves from fraud and begin putting a stop to the exploitation of seniors."