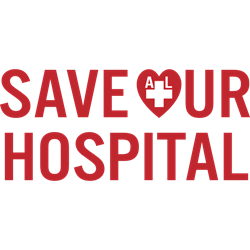 On behalf of my constituents served by Albert Lea's hospital and in light of the Quorum report, I support community efforts to bring an alternative provider to Albert Lea. - Dan Sparks, Minnesota State Senator
ALBERT LEA, Minn. (PRWEB) December 07, 2017
Elected officials, business leaders, and SAVE OUR HOSPITAL (SOH) will now use the newly released proforma to clear hurdles and pursue an alternative provider for 55,000 people in the Freeborn County area. The report shows that another entity could operate the hospital in a different, more cost-effective manner, and would be profitable to at least $4.4 million annually. Furthermore, inpatient revenue that is currently being transferred to Rochester could be added back into Albert Lea's economy.
This encouraging report signals to medical providers in the Midwest to come to Albert Lea, because not only is the county designated as a Health Professional Shortage Area (Appendix A), but also patients would be extremely welcoming of a better performing organization.
Elected and community leaders recognize the need for a second provider scenario. Dan Sparks, Minnesota state senator, District 27, stated, "On behalf of my constituents served by Albert Lea's hospital and in light of the Quorum report, I support community efforts to bring an alternative provider to Albert Lea. I will work with my colleagues in the Minnesota Senate to ensure any legislative roadblocks are lifted. I also believe competition is sorely needed in Southeastern Minnesota's health care market, and patients could receive high-quality health care at lower prices with another provider."
The market is controlled by only one provider with the highest overall costs in Minnesota and no clear quality differentiation. Research shows that health care monopolies don't serve patients well. This is driving up the cost of health insurance for businesses and individuals by 30-40% or more compared to the metro area.
Gerry Vogt, president and founder of Mrs. Gerry's, a major employer in the city, stated, "Since our first plant opened in Albert Lea, Minnesota, in 1973, Mrs. Gerry's has innovated and expanded in every way. Our continued success depends on our ability to recruit and retain talent, and we need to ensure we offer our employees high-quality, affordable health care as part of our benefits package. I support efforts to bring an alternative provider to the city, and I look forward to working with providers to offer the most attractive health care benefits to our 200 employees in Albert Lea."
An alternative provider would gain market share and attract both physicians and patients. Patients like Don Sorensen are motivated to seek a new provider. "It appears that our dominant health care organization is doing everything possible to steer patients away from Albert Lea, but there are other very qualified facilities available. I want to go to a different provider," he observed.
Reports also indicate that rural communities such as Wabasha and Belmond are successfully attracting physicians, debunking generalizations about physician shortages.
A ripple effect is spreading across southern Minnesota because of Save Our Hospital's efforts in Albert Lea. Citizens who desire local input in their communities' health care choices have formed the Rural Healthcare Coalition and will take their voices to the legislature this session.