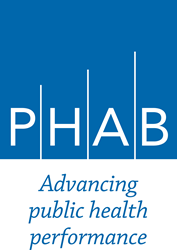 PHAB is a roaring success, and I congratulate the PHAB Board on its 10th anniversary. The future of the public's health is now brighter." -- Georges C. Benjamin, MD, Executive Director, American Public Health Association
ALEXANDRIA, Va. (PRWEB) December 06, 2017
The Public Health Accreditation Board (PHAB) today celebrated 10 years of improving and protecting the health of communities by advancing the quality and performance of the nation's state, local, Tribal, and territorial public health departments. Since PHAB's incorporation in 2007 more than 213 million people across the United States -- or nearly 70 percent of the U.S. population -- are now reaping the benefits of being served by a health department that meets PHAB's rigorous national standards for delivering quality programs and services to their communities.
"We are celebrating this milestone today with immense gratitude to the hundreds of national, state, Tribal, and local public health practitioners who have helped PHAB in many capacities through the years," PHAB President and CEO Kaye Bender, PhD, RN, FAAN, said at a celebratory event Dec. 6 at the National Press Club in Washington, D.C. "We also express our thanks to our funding partners, the Centers for Disease Control and Prevention and the Robert Wood Johnson Foundation, and to the many national public health organizations and stakeholders who have helped enhance PHAB's work."
Health departments that achieve accreditation through PHAB demonstrate great leadership by voluntarily undergoing a rigorous, multi-faceted, peer-reviewed assessment process with the goal of using the feedback obtained during the process to improve the services they provide to their communities. To date, 211 public health departments and one statewide integrated local public health department system have achieved accreditation through PHAB, and another 162 health departments are going through the process. The process has remained voluntary since the organization's inception, with the cornerstone continuing to focus on quality improvement and performance management.
"Ten years ago, when we started on the journey to create a set of national accreditation standards and measures and an accreditation system based on quality improvement, most of us viewed this goal as audacious and daunting despite the generous support of CDC and RWJF," said PHAB Board of Directors Chair Bud Nicola, MD. "The picture has changed since that beginning. Accredited health departments are experiencing the positive benefits of going through this accreditation process: public recognition, organizational improvement, accountability, improved staff morale, and readiness to compete. We are now celebrating a successful and accepted national system."
A nonprofit and nongovernmental organization, PHAB continues to seek ways in which to document the impact of accreditation on accredited health departments and the communities they serve. A three-year evaluation of the impact of accreditation conducted by NORC at the University of Chicago found that accreditation continues to stimulate and foster health departments' commitment to quality improvement, performance management, overall accountability, transparency, documentation of capacity to deliver the Ten Essential Public Health Services, and improved relationships with partners in the community.
"In 2007, the public health community implemented a program of quality improvement that was designed to document and enhance the performance of governmental public health departments through an evidence-based process of accreditation," said Georges C. Benjamin, MD, Executive Director of the American Public Health Association. "Ten years later PHAB has proven this concept works. Public health agencies see this as value added, and now 70 percent of the U.S. population is covered by an accredited agency. In addition, we now have evidence that quality and agency performance are enhanced through the accreditation process. PHAB is a roaring success, and I congratulate the PHAB Board on its 10th anniversary. The future of the public's health is now brighter."
Also reflecting on PHAB's success, Eric Ostermann, MPP, Executive Director of the National Association of Local Boards of Health, credited PHAB's work over the past decade for identifying and promoting a set of standards that guide local boards of health in their commitment to quality services.
"We are proud to see core functions of governance integrated throughout the accreditation program," Ostermann said. "PHAB's work has clearly led to greater accountability and innovation in scores of communities throughout the country, collectively serving more than 213 million people. We are committed to continuing our support and assistance to both PHAB and those boards of health seeking their accreditation."
Across the nation, public health departments are on the front lines of improving and protecting the health and well-being of people and communities. Health departments provide services aimed at promoting healthy behaviors; preventing diseases and injuries; ensuring access to safe food, water, clean air, and life-saving immunizations; and preparing for and responding to public health emergencies.
For more information, contact Teddi Nicolaus at (703) 778-4549 ext. 118, or email tnicolaus(at)phaboard(dot)org. Learn more about PHAB and accreditation at http://www.phaboard.org, and by signing up for the PHAB E-Newsletter.