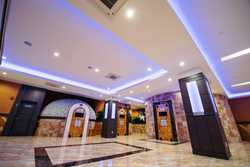 NEW YORK (PRWEB) December 07, 2017
K-Town Sauna (located 22 W. 32nd Street, 3-4th Floor) is celebrating its Grand Opening Event!
K-Town Sauna, which can accommodate 300 guests at its 15,000-sq. ft. facility, is presenting the Urban Escape Package Event until December 31, 2017. During the Event, guests can experience its luxurious facility and amenities with a special entrance fee of $35, and purchase a package of 10 entrance pass for only $200 (regular price of $500).
Guest can also benefit from the additional Special Offers during the Event:

Special Annual Membership fee of $3,000
10 Facial Massage Package for $800
10 Body Scrub Package for $440
10 Body Massage Package for $1,150 (for 90 minutes) and $800 (for 60 minutes)
10 Body Scrub and Body Massage Combo for $750
K-Town Sauna provides the state of art physical therapeutic facilities, amenities and services:
Korean traditional heated therapeutic floors
Salt Room, which alleviates body aches and other pains
Red Clay Room, which emanates special enzymes and ultraviolet rays known to aid the conditions of hypertension and diabetes
Dry Sauna, promoting healthy blood circulation
Korean Traditional Medicine Room
Massage Room
Resting Room
Based on principle of promoting healthier living through Medi-sauna, K-Town Sauna is providing onsite complimentary health check-up for its clienteles.
Also, guests can entertain pool parties at Aqua Bar and Juice Bar where fine Korean cuisine, along with health focused beverages and refreshments are served. In addition, K-Town Sauna provides full service gourmet catering up to 30 guests.
K-Town Sauna is open 24 hours a day, 7 days a week. Guests arriving after midnight can enjoy hotel-like services and amenities for an additional $10. For more detailed information, visit ktownsauna.com or contact service desk at (212) 216-9090.