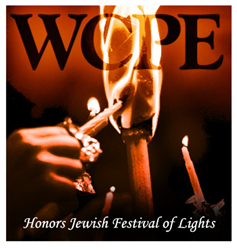 We'll celebrate Chanukah, the Jewish Festival of Lights, with a program of special music.
WAKE FOREST, N.C. (PRWEB) December 06, 2017
FOR IMMEDIATE RELEASE
Media Contact:
Curtis Brothers
919.556.5178
curtis(at)TheClassicalStation.org
WCPE FM Offers Special Programming for Chanukah
TheClassicalStation.org Honors Jewish Festival of Lights
WCPE's Music Director William Woltz announces today that TheClassicalStation.org will air special programming at 6 p.m. ET on December 12 honoring the Jewish Festival of Lights, Chanukah. Rabbi Eric Solomon, Rabbi of Beth Meyer Synagogue in Raleigh, North Carolina will introduce the program 6:00 p.m. Chanukah: In Story and Song.
"We'll celebrate Chanukah, the Jewish Festival of Lights, with a program of special music," offers Woltz. "There will be other Hebraic composers and music featured throughout the eight day holiday."
These will include:
13 Wednesday
1:00 p.m. Schwartz: The Chanukah Song (We are Lights)
14 Thursday
4:00 p.m. Bullard: Chanukah Suite
15 Friday
11:00 a.m. Stutschewsky: Hassidic Suite for Cello and Piano
From the Hebrew word for dedication or consecration, Chanukah marks the re-dedication of the Temple in Jerusalem after its desecration by the forces of Antiochus IV and commemorates the "miracle of the container of oil." According to the Talmud, at the re-dedication following the victory of the Maccabees over the Seleucid Empire, there was only enough consecrated olive oil to fuel the eternal flame in the Temple for one day. Miraculously, the oil burned for eight days, which was the length of time it took to press, prepare and consecrate fresh olive oil.
The festival is observed in Jewish homes by the kindling of lights on each night of the holiday: One on the first night, two on the second, and so on.
The Great Classical Music, 24 Hours A Day offered by WCPE transcends belief systems, being crafted by artists from all traditions and listened to by a global audience reflective of the world's diversity. Found throughout WCPE's programming are the traditions of people from all walks of life.
WCPE's live broadcast of Great Classical Music, 24 Hours A Day can be accessed around the globe in several ways; on-line streaming in multiple formats, including IPv6, local cable television systems and traditional radio broadcasting. A complete list of the ways WCPE is available with instructions for cable and satellite reception can be found at: theclassicalstation.org/listen.shtml. In central North Carolina and southern Virginia, WCPE is found on the radio at 89.7 FM.
About WCPE:
Since 1978 WCPE 89.7 FM has been dedicated to excellence in Great Classical Music broadcasting. WCPE is one of the first community-supported stations to stream on the Internet. The programming is available on our own satellite channel and on multiple Internet streams, including IPv6. WCPE receives no tax-derived support, rather depends on tax-deductible support through on-air fundraising and mail-out campaigns. More information can be found at http://www.TheClassicalStation.org or by calling 919-556-5178.