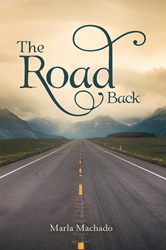 LAKE LURE, N.C. (PRWEB) December 11, 2017
A North Carolina-based writer has released her debut erotica book that follows the story of a widow who, while balancing her freshly re-launched career and status as a single mother to twin daughters, crosses paths once more with her first love. In "The Road Back," by author Marla Machado, protagonist Karina Hawkins faces the thrill and uncertainty of her rekindled feelings, but must also come to grips with her doubts about the relationship's stamina.
One year after losing her husband in the line of duty, Karina returns to the workforce as general counsel at a tech company in hopes that a new job and routine will help her pick up the broken pieces of her life. But when she discovers that her ex-boyfriend, Sawyer Banks, is to be her boss, the undeniable chemistry between she and her old flame mounts, forcing Karina to confront the ghosts of her past.
"Ultimately, this book and its characters are meant to sweep you up, to make you feel something spectacular," Machado said. "As Karina and Sawyer explore the complexity of their deeply forged connection, my hope is that readers will fall in love with them and absorb the emotional density of their relationship."
"I loved this book. Couldn't put it down," an Amazon customer wrote in a five-star review of "The Road Back." "It was sexy and fast paced, and the writing is really, really good. Definitely a must-read!"
The first installment in a planned four-book series, the sultry and compelling narrative of "The Road Back" will grip readers and leave them ready for more.
"The Road Back"
By Marla Machado
ISBN: 978-1-4808-4972-3 (hardback); 978-1-4808-4974-7 (paperback); 978-1-4808-4973-0 (electronic)
Available at the Archway Publishing Online Bookstore, Barnes & Noble and Amazon
About the author
Marla Machado was born in New York City and spent her formative years in New Jersey. After moving to Florida in 2000, Machado met her husband, with whom she had one daughter. She currently resides in Lake Lure, N.C.
Review Copies & Interview Requests:
LAVIDGE – Phoenix
Danielle Grobmeier
480-648-7557
dgrobmeier(at)lavidge(dot)com
General Inquiries:
LAVIDGE – Phoenix
Maggie Driver
480-998-2600 x 584
mdriver(at)lavidge(dot)com