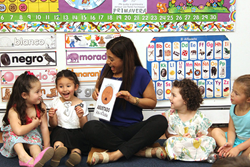 As parents we need a plan, the consistency and the support system to make it happen. SiW is here to provide the necessary ingredients on this journey of raising our children bilingual
DIX HILLS, N.Y. (PRWEB) December 08, 2017
Spanish Immersion Workshop (SiW) was selected LI Bestie Enrichment Program – Best Place to Learn a New Language by the Long Island parents and community members who voted on renowned parenting resource website Mommy Poppins (MommyPoppins.com). Mommy Poppins Bestie Guide features businesses voted the best of twenty-four different categories throughout the Long Island area. Long Islanders chose Spanish Immersion Workshop from two hundred thirty-six finalists as their preferred place to learn a new language.
The list of 2017 Bestie Winners featuring the best of family friendly businesses throughout Long Island can be found at MommyPoppins.com/LIBestieGuide . The categories range from restaurants to party places, swim schools and more; all winners serve to entertain, teach and enrich the lives of Long Island family members.
Spanish Immersion Workshop is Long Island's leading Spanish program for children located in Dix Hills, Garden City and Manhasset, New York. SiW offers year-round, Spanish Immersion education through enriching hands-on activities including songs, games, arts and crafts, story telling and more. English translations are not used in class.
Spanish Immersion Workshop founder and director Karina Giménez established the school in 2005 to provide children consistent, methodical exposure to a second language before the age of eight, a time when neural development allows for the greatest ability to become multi-lingual.
"My passion has always been multilingualism, and especially looking at how children acquire a second (or third language) in early childhood. My other passion is to provide a support system to those parents and families who are interested in raising their children bilingual. As parents we need a plan, the consistency and the support system to make it happen. SiW is here to provide the necessary ingredients on this journey of raising our children bilingual," says Giménez.
SiW offers programs year-round including, Mommy and Me programs for parents and toddlers, immersion preschool, after school and Saturday programs, and an eight-week flexible schedule summer camp during July and August for different age groups: 2-1/2 to 10 years old. Toddlers aged one to three may also enjoy the Chiquitos (parent & child) Summer Program from July 7 to August 18.
More information about class schedules, tuition and enrollment can be found at the SiW website: https://spanishiw.com/childrens-spanish-classes/
Spanish Immersion Workshop offers annual programs specifically designed for young children 12 months to 12 years old, allowing them to acquire Spanish naturally through playful interaction and entertaining full immersion. Classes vary from once a week for 45 minutes to 5 days a week for 3 hours for their preschool program.