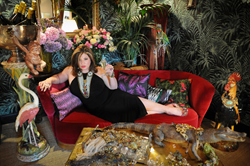 I'm a girl from Oklahoma who grew up with big dreams - two of my favorites rings in the collection are I Believe I Can Fly and The Diva Knuckle Buster.
NEW YORK (PRWEB) December 07, 2017
Laurence and Denis Vauclair-Rouquette are founders of Galerie Vauclair, one of the most important galleries in Europe, specializing in art, ceramics and rattan from the 1850 to 1900's. They quickly saw the synergy between their vision and Clark Haines', and proposed she launch her jewelry collection at their gallery. Galerie Vauclair has developed a reputation for being at the epicenter of artistic life in Paris; their exhibitions offer a blend of originality, fantasy and glamour - the same adjectives often said of Clark Haines.
Inspired by the lush, exotic Galerie Vauclair as a backdrop and enhanced with hand-painted silk wallpaper from Frommental, Clark Haines conceptualized a tantalizing and decadent pop-up shop showcase to debut the TCH Collection during Paris Design Week.
The TCH Collection offers one-of-a-kind, bespoke semi-precious and precious couture jewelry. All pieces in the collection are handmade and personally designed by Clark Haines and her business partner, May Au of Madame Siam. The studio accepts personalizations to pieces in the collection and custom designs, which they translate into wearable art.
A self-professed jewelry addict, Clark Haines explains why her 1st collection features rings:
"Rings are my favorite accessory. They are the thing I wear for myself. When I wear a ring I see it all day long, typing on my computer, driving my car or enjoying a cocktail.
"Just 10 years ago De Beers launched an advertising campaign, 'Women of the World Raise your Right Hand'. The promotion signified power and independence, and encouraged women to buy jewelry for themselves.
"Naming each ring is an important part of my design process - two of my personal favorites in the collection are I Believe I Can Fly and The Diva Knuckle Buster. I want to continue that message of personal empowerment — at a price that is affordable luxury."
While the TCH Collection focuses on Clark Haines' designs, she will also offer a selection of pedigreed vintage and antique finds. Of prominence is the 'Ara' collection by an Italian designer: every piece is a work of art. Taking inspiration from the shape of the stones, the designs incorporate semiprecious and precious stones with antique elements, interweaving small beads like lace filigree.
Originally from Oklahoma, Clark Haines practices her mantra, Live the life of your dreams. She explains, "I'm a girl from Oklahoma who grew up with big dreams. The Antiques Diva is about making antiques accessible. The TCH Collection will be about making dreams accessible."
Lynn Yaeger, contributing editor of Vogue, will join Clark Haines for the TCH Collection Press Launch Event – By Invitation Only – in Paris on Wednesday January 17, 2018, for a conversation on what it means to be free and independent women, being brave and treating ourselves… and of course loving jewelry and the life of an antiques collector.
Galleries around the world are following Clark Haines' dreams as she begins to accept distributors for the TCH Collection. The TCH Collection will launch in London at Scarab Antiques, in Amsterdam at Mariska Meijers, in Dubai at Siimoodi Jewellery and Bangkok at Paul's Antiques. In the US, the TCH Collection will be distributed by Donnie Grissom Collection at the world's largest antique and design center in High Point, NC - HPADC, and negotiations are underway for a New York City distributor. Clark Haines will accept by-appointment-only meetings at her atelier in Venice, Italy.
TCH Collection – Lush Decadence Launch Events
Couture Jewelry by Toma Clark Haines
PARIS • LONDON • AMSTERDAM • VENICE • DUBAI • BANGKOK • NEW YORK
Press Launch:
Lush Decadence: A Conversation with Vogue Contributing Editor Lynn Yaeger
6 – 8pm January 17, 2018
Open House:
Afternoon Tea with Toma Clark Haines & Laurence Vauclair 2 – 4pm, January 18, 2018
Vernissage: Une Américain à Paris 
6 – 8 pm January 19, 2018
TCH Collection Pop-Up Shop:
January 17 - March 18, 2018
Galerie Vauclair 24 rue de Beaune
75007 Paris France
About TCH Collection
The TCH Collection is a jewelry boutique collection offering one of a kind, hand-made semi-precious jewelry and vintage finds by international entrepreneur Toma Clark Haines. Preview The TCH Collection on Instagram and Facebook.
About Toma Clark Haines
Toma Clark Haines is an entrepreneur, writer, international speaker, global tastemaker, lifestyle consultant and the founder and CEO of The Antiques Diva® & Co, the world's largest antiques touring and sourcing company. She is recognized for her antiques sourcing expertise by design experts including Newell Turner former editor of House Beautiful and current Editorial Director of Hearst Design Group, Michael Boodro Editor in Chief of Elle Décor and Dominique Corlett deputy editor of the English publication  Homes & Antiques magazines (the official magazine of The Antiques Roadshow). Clark Haines has been endorsed by Adam Jabko, CEO of Esteem Media and Atlanta Homes and Lifestyles, Editor in Chief Elizabeth Ralls.
An authority on how to buy antiques worldwide and ship them to the buyer's home country, Clark Haines is an in-demand speaker at international conferences, trade shows and events for interior and architectural designers, design bloggers, and antique resellers. Her intimate knowledge of the European antiques market makes Clark Haines a sought-after speaker and "cool hunter" to forecast interior design trends. She speaks often on the subject of mixing antiques with modern furnishings, the history of  European furniture and the business of antiques; and is a popular speaker on entrepreneurism and women in business.
For Press Inquiries:
garrett(at)AndrewJosephPR.com
http://www.andrewjosephpr.com
Andrew Joseph PR
New York City, New York