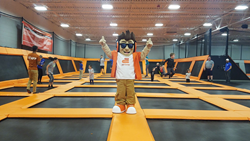 We cater to all by emphasizing family, fun, and fitness.
ANN ARBOR, Mich. (PRWEB) December 13, 2017
AirTime Trampoline & Game Parks will celebrate the opening of their sixth location in Ann Arbor, Michigan on December 17th with a grand opening event. The 24,000-square-foot entertainment center located on W. Eisenhower Pkwy is centered around family, fun, and fitness.
Sam Lundy, AirTime International Chief Operating Officer, stated that AirTime's goal is to ensure everyone, regardless of age, enjoys their time at the park, "We cater to all by emphasizing family, fun, and fitness."
He went on to say that the open jump area and dodgeball courts, both of which are available at the Ann Arbor Park, are AirTime's most popular attractions. "These are the guests' favorites because these activities (dodgeball and open jump) allow families to enjoy time together, regardless of age."
The Ann Arbor park includes more than 7,000-square-feet of trampolines, a ninja warrior obstacle course, slam dunk basketball courts, a custom traverse climbing wall, slack line, battle beam, and high energy music that aims to keep parkgoers energized.
Best American Trampolines (BAT) provided custom design services for the entire park and manufactured/installed the trampoline attractions. AirTime stated that Best American's affiliation with the International Association of Trampoline Parks (IATP) was one of the reasons that BAT was selected for the project. "Best American is active with the IATP, that helps to set and standardize the trampoline park community." Sam went on to say, "Safety at the park level is our number one priority."
Click here more information on AirTime Ann Arbor.
About Best American Trampolines
Best American is a well-known trampoline park manufacturer and industry leader with over 200 parks designed, built, and operating worldwide. Their quality American made products, superior design services, and one-on-one client relationships set them apart from industry competitors. Learn more about Best American Trampolines by visiting http://www.trampolinepark.com or calling 866-690-3272.