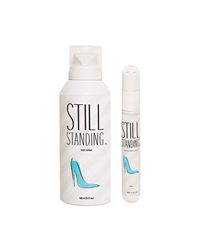 New York (PRWEB) December 07, 2017
The perfect gift makes both the giver and receiver feel great. But who can feel good when their feet hurt? This year, the gift of foot comfort, in the form of celebrity-favorite Still Standing® Spray ($20.00 - $40.00 / stillstandingspray.com), is a beauty and fashion insider obsession. In fact, it's also the ideal present for those who wear high heels or spend too much work time on their feet. It helps stop foot pain and swelling before it starts, naturally.
High-buzz Still Standing Spray made a big splash on last year's SAG & Oscar red carpets. One award-winning actress pulled it out of her clutch on-air and said it was the reason she was "still standing." A TV and film set fixture, it's also favored by music industry stars. O Magazine has called Still Standing the "Red Carpet Secret" - a celebrity, model, editor and influencer favorite that actually helps stop "stiletto suffering" before it starts. And best of all, it works for every shoe - from flats to the highest heels.
Paraben and drug-free, Still Standing's natural patent-pending formula contains Certified Organic Eco-Distilled™ Arnica, Aloe and Ilex and cooling menthol. It doesn't numb feet, and prevents the swelling that causes burning foot pain. And best of all, the effect lasts up to 6 hours (depending upon the person.)
The perfect stocking stuffer, Still Standing Spray prevents the discomfort caused by standing, walking or just wearing high heels (or any thin-soled shoe). To use, generously spray the top, sides and soles of the feet before putting on shoes. It works on bare skin or through stockings. The mini purse spray fits in any evening bag for touch-ups as needed, helping to turn high heels into covert comfort shoes.
Still Standing® offers:
Still Standing® On the Go Set ($20.00): Two travel sized mini sprays (15 ml each)
Still Standing® Large Spray ($30.00): One TSA approved large size spray (3.4 fl. oz.)
Still Standing® Total Comfort Set ($40.00): A special holiday gift wrap with satin ribbon and a silver seal on a shiny white gift box contains one large size spray (3.4 fl. oz.) and one mini spray (15 ml)
Still Standing® Double On the Go Set ($40.00): Four beautifully boxed travel sized mini sprays (15 ml each)
Still Standing® is available at http://www.StillStandingSpray.com, http://www.amazon.com and selected retailers. It can be found on Facebook: @StillStanding, Twitter: @bystillstanding and Instagram: @bystillstanding.
The Still Standing® Story:
Lyn Butler, a former Emmy award winning TV producer, is the beauty product lover behind Still Standing®. A self-confessed cosmetic junkie and solution-seeking researcher, she has spent a great deal of time and effort on various beauty challenges. Initially, she says, "out of pure self interest."
"After standing for quite a while on a slate patio at a wedding," explains Lyn, "my 4" heels were so painful that when I gratefully sat down for dinner, I discreetly removed my shoes under the table. Following dinner, when I tried to put my feet back into my shoes, I couldn't because they were too swollen. I had to go home barefoot. But the good news was that I realized that the swelling was causing the pain. So, if I could figure out how to prevent that, I could wear my fabulous shoes comfortably. And, after several years of research and personal testing, Still Standing was born."