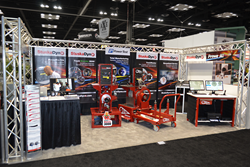 "We've gone to great lengths to improve our production capacity, delivery time, and service capability in the past few months and it's a welcome opportunity to be able to communicate that directly to our customers."
INDIANAPOLIS (PRWEB) December 07, 2017
From December 7th through the 9th, Stuska Dynamometers and SuperFlow Technologies will be exhibiting at the Performance Racing Industry Trade Show (PRI) in Indianapolis, IN. Stuska and SuperFlow are owned by Power Test Industries, a leader in dynamometers, heavy equipment testing systems and data acquisition software. Power Test acquired SuperFlow in September 2017 after having previously acquired Stuska in 2002 in an effort to establish a present in the performance racing industry. This show will mark the first time that the two companies are featured publicly at the same event.
The combined presence of Stuska and SuperFlow will feature nearly 1000sq/ft of exhibit space and will showcase some of the latest innovations in Performance Engine Testing Technology. Power Test, Stuska, and SuperFlow representatives will be available in Booths 5338 and 5501 to discuss the current product offerings and upgraded service capabilities for our customers.
Stuska Dyno will exhibit a TrackMONSTER 3000 with an accompanying gear-box configuration. This recent innovation allows the same high-horsepower testing capabilities of the classic Stuska xs-211 water brake, at considerably higher/lower RPMs. This makes the dyno a more versatile piece of equipment and allows a wider range of engines to be tested on one test stand.
The two companies expect to attract close to 1,500 visitors over the three day event, fostering relationships with existing customers and new contacts alike. PRI has proven itself to be instrumental in the growth of both Stuska and SuperFlow and has provided a foundation on which the companies continue to grow.
"We're excited to showcase our racing and high performance brands on such a big stage," says Alan Petelinsek, Owner/CEO of Power Test Industries. "We've gone to great lengths to improve our production capacity, delivery time, and service capability in the past few months and it's a welcome opportunity to be able to communicate that directly to our customers."
Power Test Industries, of Sussex, WI was founded in 1976 and specializes in engine and chassis dynamometers designed principally for the diesel-powered, heavy-duty equipment industry.