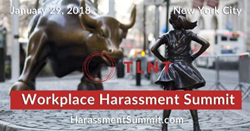 TLNT Workplace Harassment Summit is where attendees and thought leaders will start a real movement of change in the workplace, protecting employees from harassment.
(PRWEB) December 07, 2017
TLNT is hosting Workplace Harassment Summit, featuring acclaimed broadcast news anchor and journalist Gretchen Carlson as keynote speaker, on January 29, 2018, at Times Square, New York.
"Workplace harassment is one of the most important challenges facing HR today," ERE Media's CEO, David Manaster says. "This issue goes beyond the headlines to impact countless companies and employees, which is why we decided to hold an event dedicated to addressing and preventing harassment."
TLNT is a subsidiary of ERE Media and a leader in human resource and talent management news and information.
Carlson is the best-selling author of "Be Fierce: Stop Harassment and Take Your Power Back," and was named one of Time's "100 Most Influential People in the World for 2017." She will be sharing insights from her many years of experience as a tireless advocate for women in the workplace.
Attendees will also hear from Laurie Ruettimann, a former human resources leader, current author, and consultant, who brings decades of experience and knowledge about risk mitigation in the workplace.
The summit features a full day of thought-provoking sessions and interactive meetings. Attendees will return to the office with new ideas and lessons that will help make their companies safe and positive places for all employees.
The questions being answered at the summit include:
1.) How does HR peel back the layers of ineffective HR practices and really impact change for employees?
2.) How does HR get past outdated harassment-prevention training techniques?
3.) What policies are holding HR back and what can be done to move forward?
Space is limited. Those who have a role or responsibility in protecting employees and would like to make a difference can sign up today at http://harassmentsummit.com.
Media members are welcome to attend the summit. Contact Todd Raphael at 212-671-1181 x806 for information.
"Not everything that is faced can be changed, but nothing can be changed until it is faced."― James Baldwin
Follow #harassmentsummit on Twitter for updates.
About TLNT
Launched in 2010, TLNT serves up news, analysis and opinion on the business of HR for human resource and talent management leaders and professionals. Topics covered include analysis and insight into talent and HR management, training and development, benefits, compensation, legal/ethics, and HR software and technology, among others. TLNT also showcases highlights from the "best-of-the-rest" HR blogs, making this a one-stop shop for all things talent related.
Press Contacts
Brent Baker
brent(at)ere(dot)net
Marketing Director
(212) 671-1181 ext 803
Vu Thai
vu(at)ere(dot)net
Marketing Director
(212) 671-1181 ext 808
For images related to this press release feel free to use any of the following:
http://harassmentsummit.com/wp-content/uploads/2017/03/stand-up-to-harassment.png
http://harassmentsummit.com/wp-content/uploads/2017/03/TLNTWorkplaceHarassmentSummit.jpg
http://harassmentsummit.com/wp-content/uploads/2017/03/Gretchen-I-stand-up.png
http://harassmentsummit.com/wp-content/uploads/2017/03/Gretchen-Carlson.png