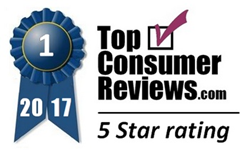 If you need a comprehensive wedding planning solution, I Do should be at the top of your list.
OVERLAND PARK, Kan. (PRWEB) December 10, 2017
TopConsumerReviews.com recently awarded their highest 5-star rating to I Do Wedding Couples Edition, an industry-leading service among companies offering Wedding Planning software.
When it comes to planning a wedding, every detail matters. From guest lists and seating arrangements to travel plans and vendor contracts, it can be challenging to keep track of every piece of information and to delegate responsibilities. Most have no idea the number of moving parts in a wedding until they are knee deep and completely exasperated. When to order the dresses, special considerations with the cake, timing of the photographer and videographer and so much more. Using wedding planning software takes away much of the stress involved with making sure everything gets done at the right time, allowing brides, grooms, friends and family to collaborate easily.
"If you need a comprehensive wedding planning solution, I Do should be at the top of your list," explained Brian Dolezal, of TopConsumerReviews.com, LLC. "Their software package includes Contacts, Invitations, and Attendees lists; budget planning; checklists and timelines; and much more. There's just no more guesswork or wondering if something has been thought of and taken care of. I Do tries to make your wedding as stress-free as possible by helping you remember every detail from large to small. We're happy to give I Do Wedding Couples Edition our top ranking among Wedding Planning software programs in 2017."
To find out more about I Do Wedding Couples Edition and other Wedding Planning software options, including reviews and comparison rankings, please visit the Wedding Planning software category of TopConsumerReviews.com at http://www.topconsumerreviews.com/weddingplanningsoftware/.
About I Do Wedding Couples Edition
I Do Wedding Couples Edition is a product of Elm Software. Their wedding software products have been sold in all 50 dates and in 93 different countries, quickly establishing Elm Software as the leader in the online wedding planning software industry.
About TopConsumerReviews.com
TopConsumerReviews.com, LLC is a leading provider of independent reviews and rankings of hundreds of consumer products and services. From Wedding Planning Software to Wedding Dresses and Jewelry Stores, TopConsumerReviews.com delivers in-depth product evaluations in order to make purchasing decisions easier.