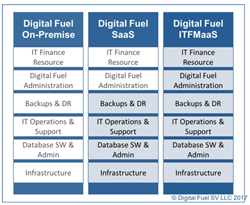 LOS ANGELES (PRWEB) December 07, 2017
Digital Fuel is announcing the release of Digital Fuel IT Financial Management as a Service (ITFMaaS). ITFMaaS is the fastest, easiest and most flexible way to achieve IT Financial Management (ITFM) maturity without buying software and building an ITFM team in-house. Digital Fuel ITFMaaS promises to deliver outstanding time to value for customers who currently don't have dedicated ITFM resources and are seeking to reap the significant business and cost benefits of ITFM while minimizing capital investment.
"Initiating ITFM provides immediate benefits to organizations, allowing IT to easily answer the questions, what is the cost of IT and what is the impact to the business if IT costs are increased or decreased," said Brett Arnott, Digital Fuel's Vice President of Product and Marketing. "Our latest offering delivers the fastest access to ITFM for organizations without needing to buy, host and manage software, and without hiring internal ITFM resources."
In as little as 30 days, organizations can have a full service, enterprise grade, ITFM solution that helps with understanding the total cost of IT services and explain IT costs to the Business with a consolidated Bill of IT. The secret to Digital Fuel's fast onboarding for ITFMaaS is the Digital Fuel Agile Implementation. The Digital Fuel Agile Implementation delivers value to organizations every twelve days, instead of at the end of a project like the traditional TBM waterfall implementation.
People, process, tools and partners are critical to the success of ITFM, and ITFMaaS delivers all four in one convenient service. The ITFMaaS service offering includes the services of highly skilled and experienced Digital Fuel IT Financial Analysts. Organizations benefit from more than a decade of experience implementing ITFM solutions for the world's most recognized commercial and government organizations.
With the introduction of ITFMaaS, Digital Fuel is uniquely positioned to offer three flexible deployment options. Only Digital Fuel offers organizations the choice of on premise, SaaS or full service ITFMaaS deployment. Because the same Digital Fuel platform is used for all three offerings, organizations can transfer between the deployment options as business needs change.
Digital Fuel ITFMaaS will allow CIOs to analyze what drives IT costs in their organization and provide key insights into the business value that IT delivers. Implementation will rapidly allow CIOs to understand and explain the Total Cost of Ownership of IT Applications and Services and support strategic business decisions with credible information about consumption and costs.
The Service provides all the components of a robust ITFM practice including:

Skilled IT Financial Management Analyst
Data discovery and preparation
Service costing
Financial analysis and reporting
Bill of IT for showback and business alignment
Advice on ITFM process maturity
ITFM tool changes and upgrades
"CIOs know that the ability to demonstrate the value of IT Applications and Services to the business is crucial to building a successful partnership," said Brett Arnott, Digital Fuel's Vice President of Product and Marketing. "Digital Fuel's TCO Reporting and Bill of IT allow CIOs to build a strong relationship with the business ensuring that they are less likely to purchase technology outside of IT."
Digital Fuel ITFM as a Service is designed for organizations who currently do not have dedicated ITFM resources and are interested in a solution with rapid implementation without having to onboard resources. The benefits of Digital Fuel ITFMaaS, including cost avoidance, rapid implementation, and flexible structuring, will especially appeal to organizations looking to leverage proven modeling and gain the competitive advantages of ITFM.
Contact Digital Fuel to find out if IT Financial Management as a Service is right for you by visiting https://digitalfuel.com/itfmaas/ .
About Digital Fuel
Digital Fuel develops software solutions that help organizations deliver more business value from every dollar spent on IT. We provide the only solution where IT leaders plan, manage and optimize the cost, quality and business value of IT service investments in one single system of record. IT and business leaders use Digital Fuel's solutions for 100% of IT spend, private, public and hybrid cloud and for corporate shared services and revenue generating services. Digital Fuel maximizes the return on investment for hundreds of customers worldwide by providing low total cost of ownership (TCO).
To learn more, please visit http://www.digitalfuel.com.
Press Contact
Digital Fuel Media
PR(at)digitalfuel(dot)com
(925) 997-2557