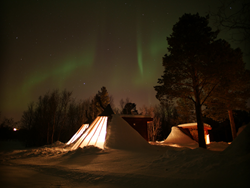 "Bring the whole family, make it a friend-cation, or couples nature retreat. [The Whitepod] is an authentic place - an eco-luxury experience wrapped in a blanket of white you will never want to end."
(PRWEB) December 08, 2017
Whether you're a bonafide Chionophile - (n): a person that loves cold weather, snow - or just love a good reason to cozy up and marvel at Mother's Nature, the team of experts at Glamping.com celebrate the winter season with recommendations for the most interesting, unique, snowy glamping experiences.
As the trusted authority on all things glamping, the website's exclusive collection of recommended properties is over 800 worldwide and offers 16 types of accommodations, and the ability to filter search by what type of experience the traveler is seeking – including a "WINTER" category. Here's some "best of the best" ideas on how to make the most of a winter vacation!
1. Adrenaline Junkies Take Note: Snow-Faris, Skijoring, Seven Summits
A thrilling backcountry experience is as close as Montana at The Resort at Paws Up – learn to ski by horse (Skijoring) and feed your inner adrenaline junkie with this old-but-new winter sport. The word skijoring is derived from the Norwegian word for "ski driving." While many folks stateside might be new to the sport - skijoring is more popular in countries such as Finland, Norway, Russian and Sweden - Whitefish, Montana has hosted the sport's world championships for several years now. Giddyup!
There's plenty of nature to carve through on a Paws Up snow-fari tour with a guided snowmobile ride to Garnet – Montana's best-preserved Ghost Town. In the winter, Garnet is only accessible by snowmobile, so the only tracks you're likely to see (other than your own) belong to the resident wildlife. Montana's northern neighbor, Canada, also has no shortage of exciting snow-fari adventures, from snow-shoeing or trekking to ice fishing and more.
Not for the faint of heart, but with an unmatched global WOW factor is the LEAPrus 3912 in Kabardino-Balkaria, Russia. This unique-for-Russia (and the whole world) hotel for climbers, skiers and mountain enthusiasts is located at 3912 meters on the southern glacier of Mount Elbrus, in Russia's Caucasus mountain range. Mount Elbrus is the highest peak in Europe, and is one of the Seven Summits - the circuit of the highest mountains in each of the seven continents. The design of the LEAPrus hotel brings to mind space capsules were specially designed and manufactured by the Italian company LEAP factory. This eco-hotel has a number of benefits over traditional mountain huts: solar power provides electricity for light, heat and hot water and sets new standards of sustainability and environmental compatibility; modern construction materials ensure perfect thermal insulation and outstanding durability and free Wi-Fi. The interior design makes you feel like you're in a futuristic movie, and panoramic windows give you stunning view.
2. Ice, Ice, Baby
Everyone knows ice skating is a winter classic, but try on these more eccentric ice-centric activities this winter. Choose an unforgettable meal experience at The Tree Hotel in Sweden, where guests have an option to dine a la ice – their ice-dining option is a beautiful and exciting activity in the moonlight with the chance to see the Northern lights. The evening is lit by torches and candles while guests are served a three-course dinner in a heated tipi tent on an ice-covered lake. Guests sit on reindeer skins while enjoying a fantastic meal over two and a half hours.
Iceberg watching on "Iceberg Alley" as it's known at Fogo Island Inn in Newfoundland, Canada happens at the end of winter, early spring where guests can get up close and personal with chunks of Greenland's icebergs – a nature photographer's delight!
Get more hands on with ice sculpting at the ICEHOTEL in Sweden - it is easier than one might think. Working with your hands completely absorbs the mind – it is relaxing and intense all at once. The guide begins the class by giving you some background about working with ice, and an introduction to the tools. Each sculptor apprentice is then given a block and chisel and off you go!
3. The Northern Lights, Winter Nature Retreats
The Northern Lights are one of Mother Nature's most exhilarating spectacles. Travel to Norway where the Holman Husky Lodge treats you to front row seats from a winter-insulated tipi bungalows. One section of the lavvo has been replaced with a floor-to-"ceiling" window. On clear nights, watch the stars travel past overhead, and get a glimpse of the local light show, the Northern Lights! Then curl up and watch the fire crackled from the wood burning stove, while cuddled up in a winter wonderland.
The Whitepod in Switzerland is perhaps the most unique winter experience of all: the serenity of the Swiss Alps, the unique luxury dome lodging, the vast views of a winter wonderland, and the comfort to do nothing, or do everything, that nature has to offer. Glamping.com contributing blogger Kristen Kellogg said, "Bring the whole family, make it a friend-cation, or couples nature retreat. It's an authentic place. An eco-luxury experience wrapped in a blanket of white you will never want to end."
An alternative Switzerland experience closer to the capital city of Berne is the Relais & Chateau property, La Pinte du Vieux Manoir. The Glass House – a treehouse on Lake Murten – is the most exclusive in Switzerland. Set in its own park and perched among the tree canopy, the Glass Diamond is a lavish lakeside tree house where guests are one with nature. Its 360° panoramic views built with reflective glass from floor to ceiling, gives all the privacy needed while relaxing in a private nest. The whole exterior of this luxury tree house is made up of a reflective golden coating, similar to a cut diamond. Winter at Lake Murten means to let your mind go - there is a special, idyllic calm during this time of year. The lake is mirror-like, and when the fog rises from it, a large number of water-birds are revealed – filling up the lake as a refuge from the cold temps in the mountains.
About GLAMPING.COM
Glamping.com, the industry authority on all things glamping for the discerning experiential traveler, is a highly-curated collection of glamping properties around the globe. Glamping.com believes in extraordinary travel - destinations that offer unique, once-in-a-lifetime experiences. With over 800 glamping sites in 16 categories, on six continents, the company's mission is to empower people to try this form of experiential travel with hand-selected, personally vetted properties. Find inspiration on http://www.glamping.com and Facebook, Instagram and Twitter @glampingdotcom.