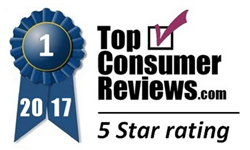 When it comes to Cookie Clubs, David's Cookies is affordable, dependable, and delicious.
OVERLAND PARK, Kan. (PRWEB) December 11, 2017
TopConsumerReviews.com recently gave another best-in-class 5 star rating to David's Cookies, a leader among online retailers offering memberships in Cookie Clubs.
When it comes to a quick and tasty treat, cookies remain one of the most popular choices. From organization potlucks to traditional holiday buffet tables, it's rare not to find a cookie as part of the selection. Cookie Clubs allow cookie fans to try an amazing variety of delicious sweets, ranging from traditional oatmeal raisin to unique gourmet-style flavor combinations. Whether shopping for oneself or looking for the perfect gift for a friend or colleague, Cookie Clubs bring a dose of delight to the mailbox on a regular basis.
"Over the last three decades, David's Cookies has been one of the most well-known names in the cookie marketplace," says Brian Dolezal of TopConsumerReviews.com, LLC. "No matter what your gift-giving need or budget range, David's Cookies has an option that will fit. Their selection also goes beyond cookies to include brownies, cookie dough, and even cheesecake. We love David's Cookies' commitment to customer service, especially their free shipping and great return policy. When it comes to Cookie Clubs, David's Cookies is affordable, dependable, and delicious. We're happy to say that in 2017, David's Cookies is our top-ranking Cookie Club."
To find out more about David's Cookies and other online providers of Cookie Clubs, including reviews and comparison rankings, please visit the Cookie Clubs category of TopConsumerReviews.com at http://www.topconsumerreviews.com/cookie-clubs/.
About David's Cookies
David's Cookies opened its first store location in Manhattan back in 1979, and the cookies made by classically-trained French chef David Liederman were an instant hit. Franchising soon led to more than 150 stores worldwide selling 22 different varieties of fresh-baked cookies. Now a subsidiary of Fairfield Gourmet Foods Corp., a New Jersey-based gourmet dessert company, the David's brand now includes scones, cinnamon rolls, rugelach, and gluten-free products available in stores and online.
About TopConsumerReviews.com
TopConsumerReviews.com, LLC is a leading provider of independent reviews and rankings of hundreds of consumer products and services. From Cookie Clubs to Fruit Clubs and Jewelry, TopConsumerReviews.com delivers in-depth product evaluations in order to make purchasing decisions easier.