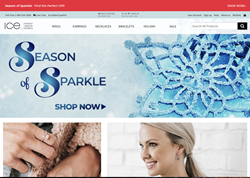 SAN FRANCISCO (PRWEB) December 07, 2017
Ice.com, the premium fashion jewelry marketplace, today announced that Glimmer, Inc. (http://www.glimmer.ai) has acquired a controlling stake in the company in order to reinvent the company as a powerful, growing brand in the fashion jewelry category. Dave Hersh and Matt Wilkinson, partners at Glimmer, will join the company as CEO and CMO respectively. CSC Generation, who previously held 100% control, will maintain a large stake in the business, including a board seat.
"The jewelry industry is awash in antiquated processes and infrastructure, and buyers pay the price," said Hersh. "We see a massive opportunity to inject innovation and make buyers happier in the process. The new Ice.com will be a smart, data-driven engine of growth and fashion trends that harkens back to Ice.com's successful roots as a trusted source for fresh, honest jewelry that shoppers love."
"Ice has a unique history and future in occasion-based, premium fashion jewelry," said Wilkinson. "Pieces that help you look and feel good, whether it's for first dates, business meetings, anniversary dinners or birthday parties."
Glimmer's team includes experienced executives, data engineers and "growth hackers" who build a smarter, more customer-centric business while bringing a more purpose-driven startup culture back to the company.
###
About Ice.com. Originally founded in 1999, Ice.com is a provider of fresh fashion jewelry for fashion-conscious individuals.
About Glimmer. Glimmer.ai acquires or invests in ecommerce and vertical SaaS companies that choose a different path - bootstrappers and turnarounds who value sweat over capital, and who want a high likelihood of success, not a <5% shot at a home run. Glimmer is not a fund, but a SWAT team of execs, data engineers and growth experts who roll up the sleeves to achieve scale and differentiation and are prepared to make smart cash investments to get there.