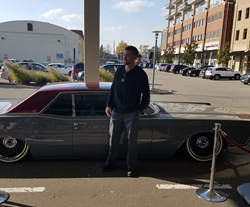 The FACTON North America User Conference has become one of the premier gatherings of experts focused on the impact of costing on their business profitability and success. - Alexander M. Swoboda, FACTON CEO
Troy, Michigan (PRWEB) December 07, 2017
FACTON, the leader in Enterprise Product Costing (EPC), held its semi-annual North America User Conference in Royal Oak, Michigan, on November 9, 2017. The conference was attended by nearly 60 customers and partners, with presentations by FACTON customers: TI Automotive, TE Connectivity and P3, with a display by Mobsteel/Detroit Steel Wheel Co. (see photo).
FACTON Chief Executive Officer Alexander M. Swoboda said, "Our user conference has become one of the premier gatherings of cost estimators, financial managers, sales executives, and procurement experts who focus on the impact of costing on their business profitability and success. We look to continue growing the attendance and the impact of these conferences as we make plans for 2018 and beyond."
Also at the conference, North America FACTON User Group President Brent Streeter, Sr. Finance Manager of TE Connectivity, presented the new FACTON North America User Group Newsletter, LinkedIn group for collaboration and FACTON Product Management methods for easier customer collaboration. Streeter said, "These newly introduced communication and collaboration methods will provide a means for users to share advice on best practices, as well as a forum for information on functionality and future direction of the enterprise product costing solutions."
The next FACTON user conference is scheduled for May of 2018.
About FACTON
The FACTON EPC Suite is the leading Enterprise Product Costing (EPC) solution for the automotive, aerospace, mechanical engineering and electronics industries. Its specific solutions offer robust answers to the requirements of executive management and individual departments within the enterprise. FACTON EPC enables standardized, enterprise-wide costing independent of location and department for maximum product cost transparency throughout every phase of the product life cycle. Businesses accelerate their costing, achieve pinpoint cost accuracy and secure their profitability.
FACTON was founded in 1998 and has locations in Potsdam, Dresden, Stuttgart and Detroit. Hasso Plattner, founder and chairman of the supervisory board of SAP AG, has supported this innovative company since 2006. The international portfolio of customers includes Ford Motor Company, Henniges Automotive, Fisher & Company, DURA Automotive Systems, Airbus, Mahle Behr, MANN+HUMMEL, Porsche and other renowned manufacturers.
###
Press Contact:
Valerie Valentine | Marketing Manager | FACTON Inc. | Phone: +1 (248) 761-2255 | valerie.valentine[at]facton.com | http://www.facton.com/en