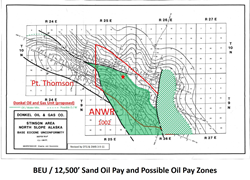 ANCHORAGE, Alaska (PRWEB) December 08, 2017
Independent Alaska oil and gas lease investors Daniel K. Donkel and Samuel H. Cade won the rights to key leases of an oil discovery that may extend far into the Arctic National Wildlife Refuge.
Donkel and Cade – owners of Donkel Oil and Gas LLC – won seven of the 16 leases that received bids in the Alaska Beaufort Sea Areawide competitive oil and gas lease sale held Dec. 6 in Anchorage.
The leases bolster Donkel's position in the Stinson oil and gas prospect located in the Beaufort Sea contiguous to the 1002 area of ANWR and Exxon's Point Thomson development.
Oil was discovered with the Stinson #1 well in 1990 by ARCO. Donkel and Cade have assembled an attractive block of leases surrounding the discovery well. A February 23, 2010 PetroTechnical Resources Alaska report by petroleum engineer Michael D. Dunn of, suggested reserves of between 80 and 420 million barrels, with a base case reserve of 150 million barrels. These potential reserves, according to David Gross (former Chevron and consulting geologist) could be part of the 10.3 billion barrels that the United States Geologic Survey estimates lie below and around ANWR in the 1002 Area.
Point Thomson's massive retrograde gas condensate reservoir, located 60 miles east of Prudhoe Bay, is estimated to hold up to 8 trillion cubic feet of gas and hundreds of millions of barrels of gas liquids and oil, according to the Alaska Department of Natural Resources.
Donkel said his geological, engineering and geophysical consultants have provided reasons to believe the Stinson prospect found on Donkel's state lands spills over into and shares a very large structural trap on the 1002 area of ANWR. Donkel believes this discovery can lead to the production of billions of barrels of oil and trillions of cubic feet of gas, truly one of the best plays he has seen in his 30 year career in Alaska. For this reason Donkel strongly supports the opening of the ANWR 1002 Area for exploration and production to unlock these potential reserves.
Because of Stinson's proximity to the recently developed Point Thompson field with its new pipeline and facilities that have significant spare capacity, there is now infrastructure available to make this development feasible and therefore attract new investment.
Donkel said recent multi-billion barrel oil discoveries by Repsol and Caelus vindicate his view that there is room to boom for small oil companies on the North Slope of Alaska. Alaska has been known for huge oil companies such as BP, Exxon and ConocoPhillips, and also for huge oil fields such as Prudhoe Bay, Kuparuk, and Alpine. Recently however, Alaska has seen small oil companies with massive discoveries such as Pikka and Smith Bay.
"Smaller competitors are coming back to Alaska because of the Pikka and Smith Bay discoveries, the new availability of the National Petroleum Reserve Alaska & the promise of opportunity in the Arctic National Wildlife Refuge (ANWR), and most importantly, the better treatment by DNR toward smaller companies," Donkel said.
While it may have been necessary for the major oil companies to originally open up Alaska's North Slope, it will likely take smaller, independent companies to lead a North Slope resurgence. Donkel said the state of Alaska has favored the majors over smaller oil companies for decades, but is slowly changing this bias and finally allowing smaller companies to move forward as a result of the recent billion barrel discoveries by Armstrong, Repsol, Caelus and others.
With a team of experienced Alaska oil and gas consulting scientists, Donkel and Cade assemble lease tracts into large blocks offering world-class oil plays to attract qualified exploration and production companies.
Daniel K. Donkel and Samuel H. Cade have enjoyed much success in Alaska's oil patch over the last several decades, notably selling 200,000 acres to Apache in 2010. Previously they helped cause the Redoubt Unit to be placed in production following a sale to Forcenergy and Forest Oil in 1997. Redoubt has produced for more than 17 years. Currently, Donkel and Cade are actively marketing approximately 60,000 acres of Alaska North Slope and Beaufort Sea leases, including the Stinson prospect. More information on Donkel and Cade's Alaska holdings can be found at http://www.donkeloilalaska.com or contact donkeloil(at)gmail(dot)com.