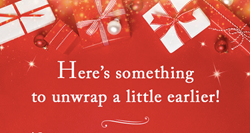 Christmas offer for Dominican expats
Atlanta, Georgia (PRWEB) December 08, 2017
Exhilarating parties, spectacular fireworks, relaxing family time and fantastic food. This is what Christmas in the Dominican Republic is all about. After moving abroad, Dominicans miss all these beautiful traditions. To ease their homesickness, LlamaRepublicaDominicana.com offers them special bonuses: $3 bonus for all Voice Credit orders above $20, using coupon code XMAS3 or $2 bonus for all Voice Credit orders above $15, using coupon code XMAS2.
The offer is valid for orders placed between December 8-10. The promotion offers one coupon for each customer.
Customers can stay connected to the Dominican Republic using any of the 3 products available on LlamaRepublicaDominicana.com: Voice Credit, Mobile Recharge, and Virtual Numbers. The standard Voice Credit rates are 3.5¢/min for landlines, 9.9¢/min for mobiles, and 7¢ for SMS.
The mobile recharge is a service through which customers can recharge mobile phones anywhere in the world. The process is fast and secure and the credit reaches its destination instantly. The mobile operators available for recharges to the Dominican Republic are Claro, Orange, Viva, Tricom, and Moun.
To feel closer to their loved ones, customers may also access the Virtual Number service, a monthly subscription created especially for the people back home. Thus, anyone calling the customers' Virtual Number will pay the regular rate of a local call.
LlamaRepublicaDominicana.com is available both in English and Spanish, so customers can navigate using the language that is more familiar to them. Within the same purpose of finding easily the information needed, the website also offers 24/7 Customer Support, that may be contacted by email or phone.
To find out more about offers and promotions on mobile top ups to the Dominican Republic or about international calling rates to this country, customers are invited to follow LlamaRepublicaDominicana.com on its Facebook page: Facebook.com/LlamaRepublicaDominicana.
About LlamaRepublicaDominicana.com:
LlamaRepublicaDominicana.com is an interactive website designed by KeepCalling, a global telecommunications company registered in 2002 in USA. Presently, KeepCalling provides its services to hundreds of thousands of consumers , with a focus on customer satisfaction. KeepCalling has been listed by Inc 5000 as one of the fastest growing companies in the USA for 5 consecutive years. In 2015 the company registered a revenue increase of over 200% from 2011 to 2014.