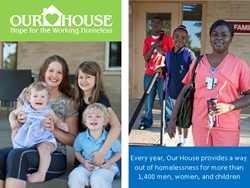 Supporting programs that help local homeless families will forge us into a better community, and together we can help provide opportunities for those facing a difficult journey
Little Rock, AR (PRWEB) December 09, 2017
Jason Dickinson, founder and manager of Dickinson Insurance and Financial Services, is releasing details on a charity event taking place in the Little Rock area this holiday season to help provide support to residents dealing with hunger and homelessness.
"Supporting programs that help local homeless families will forge us into a better community, and together we can help provide opportunities for those facing a difficult journey," said Dickinson.
Throughout the course of the charity event, the Dickinson team will be issuing donations to Our House, a regional nonprofit that offers a broad range of services to homeless families. Donations will be provided on a recommendation basis – for each person invited into the firm to receive a no cost insurance quote, the firm will issue a monetary donation to Our House.
More information on the charity event, as well as a form that allows readers to suggest new charities for the Dickinson team to support, can be found here: http://www.dickinsoninsuranceagency.com/Recommend-Us_56.
About Dickinson Insurance and Financial Services
The Dickinson Team is proud to be part of a company that has been serving satisfied customers for over 70 years. They offer quality insurance that's affordable and provide easy access for clients to contact them in person, over the phone, or through their website—wherever and whenever clients need. Dickinson knows how important price and excellence in service are in building long-lasting relationships, and they make every effort to secure that loyalty by holding high standards, individually and as a team. To contact an expert at Dickinson Insurance and Financial Services, call (501) 221-3000.