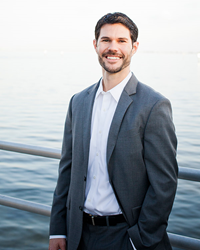 I believe in delivering state of the art care with a gentle touch in a lighthearted environment. Scaling and root planing procedures are often our first line of defense against gum disease.
CLEARWATER, Fla. (PRWEB) December 21, 2017
Dr. Todd Britten, DMD, MS, offers scaling and root planing to patients with gum disease. Scaling and root planing is the mechanical removal of dental plaque and calculus (commonly referred to as tartar) from the tooth and root surface, above and below the gum line. The mechanical removal of plaque and tartar will result in a significant decrease in disease-causing bacteria in the periodontal pocket. This is typically done with a topical anesthetic, although a local anesthetic may be required in advanced cases. Ultrasonic scalers and hand instruments are used to remove the mineral deposits of tartar from teeth at or below the gum line. The tooth is then polished so that the gums have a clean surface to adhere to.
Scaling and root planing procedures may take more than one visit and is followed up with a visit with Dr. Britten in four to six weeks to re­evaluate the periodontal tissues. Patients with more advanced cases of periodontal disease may still require non-surgical periodontal therapy prior to surgical therapy. This is done so that the overall tissue quality is improved prior to surgery. It may also reduce the extent or area of surgical periodontal treatment needed.
Early stage periodontal treatment may include antibiotic therapy, a bite adjustment (also known as occlusal adjustment) or these scaling and root planing procedures to prevent some of the major problems associated with periodontal disease. Gingivitis is the earliest phase of gum disease and is characterized by the buildup of plaque along the gum line. Gums can become inflamed, sensitive and may bleed when flossed or brushed.
If gingivitis is not treated by scaling and root planing it can grow into the next phase, periodontitis. The jawbone, gum tissues, and fibers that support the teeth are damaged during this phase of the disease and the pocket depths between gums and teeth increase. The final phase is termed advanced periodontitis, and at this point tissue and bone have been destroyed. Teeth can shift in the mouth, which affects the bite, and will loosen and sometimes fall out. Very aggressive gum disease treatment is required if gum disease reaches this phase. Treating periodontal disease early is the best way to prevent the progression of this disease and save the teeth and prevent destruction to the jawbone. In addition to the dental problems that increase as the disease progresses, other health problems such as stroke, pancreatic cancer and low birth-weight babies have been linked to gum disease.
When gum disease has progressed and non-surgical treatments are ineffective, Dr. Britten treat your infection with traditional surgical therapy known as flap and osseous surgery or the Laser Assisted New Attachment Procedure (LANAP®). Both procedures will remove bacteria and diseased tissue, leaving your mouth healthier.
Gum recession may be improved with gum grafting or excessive gum growth with gingivectomy. Gum grafting utilizes transplanted tissue while gingivectomy repositions periodontal tissue to restore gum levels. If a patient has severe bone loss surrounding existing teeth, Dr. Britten may recommend a regenerative procedure called Periodontal Regeneration Grafting. These procedures can reverse some of the damage by regenerating lost bone and tissue.
For more information on the progression of gum disease, scaling and root planing procedures, or periodontal surgical treatment options, contact us today at 727-586-2681. Britten Periodontics & Implant Dentistry is a periodontal practice offering patients personalized dental care in implant dentistry in Clearwater, Florida. Dr. Todd Britten received his Bachelor of Science & Doctorate of Dental Surgery from University of Florida, a Master's Degree and Certificate in Periodontology and Implant Dentistry; and completed extensive training at the Institute of Advanced Laser Dentistry. He is one of the only board-certified periodontists in Pinellas County. He is a member of the American Academy of Periodontology, American Dental Association, Florida Association of Periodontists, Upper Pinellas County Dental Association, Hillsborough County Dental Association, Hillsborough County Dental Research Association and Florida West Coast Dental Association.