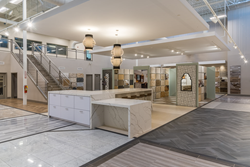 The new Atlanta Showroom offers customers a first-class buying experience, featuring a wide variety of our best-selling surfaces...
Austell, Georgia (PRWEB) December 08, 2017
M S International Inc. ("MSI"), North America's Leading Supplier of Premium Surfacing Products recently expanded and remodeled its Atlanta, Georgia facility located in Austell. Growth of the Atlanta market and strong demand for MSI's expanding product line prompted the remodel and expansion. The showroom will be one of the largest surfacing showrooms in the Southeast region.
MSI's design team was challenged with transforming the Atlanta area facility into a state-of-the-art flagship showroom offering retailers, fabricators, designers and their customers an exceptional customer experience the moment they walk in the door.
The refurbished Atlanta Showroom welcomes visitors with a bright open design showcasing a wealth of classic to contemporary surfaces, floor to ceiling. Wide walkways make it easy for customers to explore dozens of displays and creative installs to find products that speak to their design aesthetic, while a gorgeous room scene inspiration gallery helps them easily envision products in their homes. Other highlights of the showroom include an expansive flooring and wall selection complete with an inspirational wood plank wall, dozens of stacked stone panels, a variety of on trend backsplash and wall tiles, and an array of elegant natural stones.
Improving the customer inspiration and selection process was a particularly important goal of the remodel. To that end, a total revamp of the facility's lighting occurred. New high efficiency LED fixtures provide functional lighting, decorative pendants draw attention to must-see surfaces, and massive skylights provide ample natural light. Renovations carried through to the showroom office, resulting in a 5,000 sq. ft. open concept space which allows the sales team to serve customers with greater efficiency.
A well-stocked coffee bar, comfortable seating area and even a dedicated children's area underscore MSI's commitment to the customer experience, and encourage causal conversation. Expansive worktables fashioned from some of MSI's most stunning slabs (Calacatta Laza Q Quartz and Agatha Black Granite) are perfect for design professionals and their clients to gather-round and layout plans, discuss surface options, and review finish boards. Additionally, a new merchandising hub showcases all the merchandising tools available to retailers for displaying MSI products beautifully and effectively.
After spending time in the floor and wall tile showroom, customers are encouraged to visit the upgraded slab gallery which now showcases over 300 colors of granite, marble, quartzite, and soapstone slabs, as well as MSI's wildly popular Q Premium Natural QuartzTM countertops.
Raj Shah, President of MSI comments on the remodel, "The new Atlanta Showroom offers customers a first-class buying experience, featuring a wide variety of our best-selling surfaces—plus our newest innovations like Stile Gauged Porcelain and Arterra Premium Pavers—all in an open, welcoming space that's positioned to serve this market for years to come."
MSI invites you to visit the Atlanta showroom, located at:
7950 Troon Circle
Austell, Georgia 30168
Phone: (678) 803-0800
Founded in 1975, MSI is the leading supplier of Premium Surfaces including flooring, countertops, decorative mosaics and wall tile, and hardscaping products. MSI's product offering includes an extensive selection of granite, marble, porcelain, ceramic, quartz, glass, quartzite, and other natural stone products. Headquartered in Orange, California, MSI also maintains distribution centers across the United States and Canada. MSI's product line is imported from over 36 different countries on six continents bringing the very best products to the North American Market. The company maintains an inventory of over 125 million square feet of material.
For more information on MSI, visit: http://www.msistone.com.