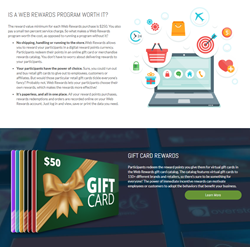 Web Rewards offers a simplified rewards solution that fits the goals and budgets of small businesses.
ATLANTA (PRWEB) December 14, 2017
Performance Systems Group recently released Web Rewards, a one-of-a-kind online rewards program specifically designed for small businesses. This simple, easy online rewards solution allows small businesses and organizations to fund a rewards bank and use a basic, online rewards tool to send rewards to participants.
The problem Performance Systems Group aims to solve is this: small businesses like mom-and-pop shops, start-ups and HR departments usually have only two options when looking to reward employees or customers. They can either invest in advanced full-featured incentive software, or simply buy rewards and distribute them themselves. Each option has set-backs.
"A large incentive software investment may entail technologically advanced features a smaller organization doesn't need," says Mark Herbert, President of Performance Systems Group. "And buying rewards in-house means spending a lot of time or money choosing which rewards to offer. You'll never find one reward that motivates everyone equally, then you have to purchase, acquire and distribute the rewards yourself."
Web Rewards is a simple, straightforward alternative to the options above. With a three-step process, program sponsors can create their online rewards program and begin using it immediately.
1. Create an account and purchase either a bank of online reward points or gift card funds.
2. Send e-mail invitations to potential reward system participants.
3. Distribute rewards to customers or employees for desired behaviors.
Web Rewards offers two types of reward programs: online points based (or merchandise rewards) and gift card based. Both types of programs grant sponsors access to diverse rewards choices. The merchandise rewards catalog features millions of online rewards, while the card based programs offer virtual gift cards to over 175 retail stores, brands and restaurants.
With their online platform, Web Rewards offers a simplified rewards solution that fits the goals and budgets of small businesses. In today's competitive markets, start-ups and small businesses can never have too many cost-effective ways to grow and outpace competitors.
About Performance Systems Group
Performance Systems Group (PSG), founded in 1996, is an Atlanta-based incentive technology provider. Originally serving the corporate sphere's increasing demand for debit card incentive programs, they developed their online incentive technology, RewardTrax®, in 2006. RewardTrax® offers both a vast online rewards shopping mall and powerful, incentive modules. In 2017, they released a simplified, do-it-yourself online rewards program called Web Rewards, designed to serve small businesses' needs for customer and employee motivation.