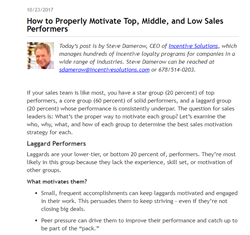 Today's advanced incentive technology can provide the power of a diverse reward experience.
ATLANTA (PRWEB) December 18, 2017
Most sales teams have a top group of star performers, a core group of solid sales people, and a lower performing group of "laggards." According to a new Selling Power feature article written by Incentive Solutions CEO Steve Damerow, it is essential for sales leaders to understand the best sales motivation strategy for each particular group.
The laggard performers (bottom 20 percent) are motivated by rewards for small, frequent accomplishments to keep them focused on improvement. "A non-cash merchandise award acts as a trophy to symbolize their accomplishments," says Steve Damerow. "At the same time, public leaderboards to show sales performance rankings can apply peer pressure to improve their performance and catch up with the pack."
The core group, who comprise the middle 60 percent of most work forces, are often younger salespeople of Generation Y and Z who are still developing their skills. Motivated by the future, they are eager for knowledge and can be rewarded through training opportunities. Smaller incentive rewards for meeting quotas and hitting new milestones will keep them engaged and eager to grow.
Star performers are the top 20 percent, and are often GenXers and Baby Boomers who have put in the time to become the best. Since they have likely already received most short-term incentive rewards, they are best motivated by rare or once-in-a-time rewards or recognition for top-tier performances. This might include naming them to a President's Club or advisory council, as well as offering exclusive incentive travel opportunities that have an impact.
While all of these different sales incentive strategies may seem difficult to manage, this doesn't have to be the case. "Today's advanced incentive technology can provide the power of a diverse reward experience," says Damerow. "With SaaS platforms, you can be more flexible and have non-cash incentives for different tiers of performers." Online features also allow you to segment sales promotions by specific qualifying groups, display leaderboards, and provide a wide range of reward pay-outs.
The Selling Power article by Damerow confirms that by using the right online technology and tools, you can tailor your incentive program so that it motivates each member of your sales team, within each stage of their development.
About Incentive Solutions:
Incentive Solutions, Inc., founded in 1994 based in Atlanta, GA, offers online rewards, travel incentives and gift card rewards. Since its creation, Incentive Solutions has focused on delivering more than just rewards, innovating the incentive industry by utilizing emerging online technologies. Acting as valued partner and trusted advisor to clients, they help organizations increase sales, motivate employees, build customer loyalty, create positive work environments and improve channel sales relationships.
Incentive Solutions
2299 Perimeter Park Drive, Suite 150
Atlanta GA 30341
1-770-457-4597
1-866-567-7432
https://www.incentivesolutions.com