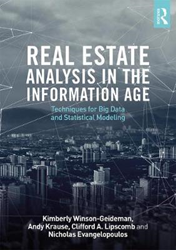 We wrote this book to provide an overview of methods and process to help analysts from all backgrounds
SEATTLE and CARTERSVILLE, Ga. (PRWEB) December 07, 2017
Real estate experts, including two analysts from Greenfield Advisors, recently released a new book aimed at explaining in detail how to understand, gather, and analyze the large amounts of data available to real estate industry researchers.
"Real Estate Analysis in the Information Age: Techniques for Big Data and Statistical Modeling" provides analysts with the tools and understanding to effectively delve into large amounts of data in a manner consistent with the goals of the project. Included in the book is a step-by-step guide that leads readers through the completion of the presented case studies. Additionally, all data and code used in the book's example case studies are freely available for download on the book's website.
"Creating robust and reproducible analyses of real estate information is an issue that plagues academic researchers, consultants and big businesses," said Dr. Andy Krause, one of the book's authors. "We wrote this book to provide an overview of methods and process to help analysts from all backgrounds better leverage the new data and techniques that are evolving. We hope that these lessons can be used across a wide range of applications in the real estate industry."
The book examines not only the use of Big Data and statistical methods but also guidelines on how to best manage, prepare, explore and clean data during the life of the research project. These intermediate steps are critical to the success of the project but are often overlooked by researchers when a project first begins.
Greenfield Advisors' principal Dr. Clifford A. Lipscomb along with Dr. Krause co-wrote the book with Dr. Kimberly Winson-Geideman (University of Melbourne) and Dr. Nick Evangelopoulos (University of North Texas). The quartet combined their decades of real estate analysis expertise to write a book that is accessible to both novice researchers, as well as experts in the field who want to learn more about utilizing Big Data. From the Foreword to the book, written by Dr. N. Edward Coulson, "Real estate research is more important than ever: academic, policy, and corporate scientists are more attuned to the special nature of real estate and the important roles it plays in the economy, in people's lives, and in financial portfolios."
"Real Estate Analysis in the Information Age: Techniques for Big Data and Statistical Modeling" is now available on Amazon.
About Greenfield Advisors
Founded in 1976, Greenfield Advisors is a boutique economic and financial analysis firm that provides government and private sector clients with customized consultations and advisory services. Best known for its analysis of complex economic, financial, and real estate situations in high-profile litigation matters, Greenfield Advisors also develops feasibility studies, business plans, and appraisals for its clients. Greenfield Advisors' subsidiary, Bartow Street Capital LLC, serves as its investment banking and capital raising arm, and its subsidiary, Accre LLC, acts as an investment principal. Learn more about Greenfield Advisors by calling 206-623-2935 or visiting http://www.greenfieldadvisors.com.