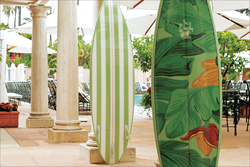 "My experiences naturally gave me a foundation for doing the thing that decades later would become a trend — GOING GLOBAL."
SANTA MONICA, Calif. (PRWEB) December 14, 2017
Celebrating her 30th year in Los Angeles, IMAGE: Global Vision founder Regina Rubino reflects upon what inspired her transition from New York City to the "City of Angels" and back (with a decade spent in Asia) and how it's affected her point of view and her work, while creating award-winning brand and identity solutions for multinational businesses with culturally diverse clientele.
As a student in New York City's High School of Art and Design, then Fashion Institute of Technology (FIT), Rubino was immersed in a localized version of the cultural melting pot of the world. It was there that she learned that while each culture was unique, there was a great deal of common ground in what motivated, moved and excited people. "But it was the city's bridges that taught me early on that the world was much larger than my life in Queens. Going over the bridge every day into Manhattan was some of the most important traveling I've ever done in this big, wide world. Every day, morning and afternoon, the subway ride was a world away from home." states Rubino, adding "Living in New York was a rite of passage. Where most people saw "differences" I saw opportunities. I absorbed so much that my city experiences naturally gave me a foundation for doing the thing that decades later would become a trend—GOING GLOBAL."
Following graduation, she worked at prestigious design firms accumulating the business acumen and understanding of protocols requisite when working with top-tier global organizations, ultimately establishing her own studio with long time collaborator Robert Louey. Louey/Rubino Design Group Inc. quickly emerged as an internationally acclaimed branding and design firm focused on businesses with a multinational consumer base, from which grew IMAGE: Global Vision.
The move from New York City to the breezy independence and sunny disposition of Los Angeles in 1987 infused everyday life with a colorful exuberance.
Branding and collateral produced for southern California clients marked the beginning of establishing some of the long relationships as well as providing the foundation for an in-depth understanding of the aerospace, real estate and consumer services industries. Working with CEO's and their key teams to transform their vision into reality became the focus of the studio's extensive Hospitality Global Brand Creation and Strategic Rebranding projects.
Whether updating the iconic pink and green stripes and banana leaf patterns for the Beverly Hills Hotel, designing modern signage to complement the glamorous new rooms at The Huntley Hotel or creating a 10-story building wrap for Andaz West Hollywood, the studio drew from not only the impressions one has of palm tree lined, glittery red carpet events and hyper luxe experiences, but also of the deeper understanding that one finds in multicultural Los Angeles.
Los Angeles proved to be an ideal springboard for for servicing both Western and Asian clients.
When Indonesia opened to foreign investment in 1992, Rubino was invited to participate in a joint venture and opened offices in Jakarta where her understanding and appreciation for Asian culture and aesthetics deepened. Rubino then expanded into Hong Kong in 1997 and in 2012 opened an office in Beijing, China (Beijing Image Global Vision Branding Design Consultants Ltd) where a sophisticated and well traveled (whether actual or virtual) consumer and an expanding economy have created an ever strengthening demand for strategic brand and identity design.
Rubino's vast experience creating strategic brands and identity designs throughout Asia, America and Europe, brings to her clientele a deeper understanding of how the world and business and brands are all connected — a global consciousness, local awareness and universal appeal to every project she's involved with.
Through the years, over 300 international communications arts awards have been won including two prestigious James Beard awards and the Pacific Design Center Star of Design Los Angeles Award, with work included in the United States Library of Congress Permanent Collection. This often involves branding not just a corporate concept, image or product, but entire environments. Her client list includes The Beverly Hills Hotel, The Huntley Hotel, Grand Del Mar Resort (Fairmont), Rockwell International, LA Gear, Kaufman and Broad, Dean Witter Reynolds, Deloitte, MGM Pathe, Wolfgang Puck, Mandarin Oriental Jakarta/New York/Taipei, Beijing Yintai Property Company Ltd., Park Hyatt Beijing/Shanghai/Chicago/New York, Andaz Wall Street/5th Avenue/West Hollywood/Savannah/Napa/Shanghai/Tokyo and Rosewood London/Beijing/Phuket.
"Solving communication challenges with sensitivity and delight has been our hallmark for 30 years. We are so very fortunate and look forward to what the New Year will bring."
For more information about Regina Rubino and IMAGE: Global Vision
visit http://www.imageglobalvision.com , or email reginarubino(at)imageglobalvision.com, call +1-(310) 998-8898
or write to 2525 Main Street, Suite 204, Santa Monica, CA, 90405.