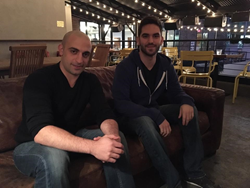 "With over 250 resumes sent for a single opening, and more than 90% of companies using resume screening technology, job seekers need to have an effective resume that's optimized for Applicant Tracking Systems". Michael Krikheli, Co-founder
NEW YORK (PRWEB) December 12, 2017
According to Forbes, more than 75% of today's submitted resumes are automatically rejected before they're ever seen by human eyes. This is due to the fact that over 90% of employers utilize Applicant Tracking Systems which automatically scan resumes the moment they're submitted.The use of applicant tracking software by companies has risen dramatically over the last five years as it has become cheaper and more accessible.
If a resume scanned by the ATS doesn't score high as a match for the position, it rejects the resume and it's never reviewed by the employer. Many times the candidate is qualified for the position but rejected by the ATS because the resume isn't optimized properly.
Zipjob's founders Michael Krikheli and Jeff Macks teamed up to create a resume writing service with a unique twist. Zipjob matches customers to a certified professional resume writer who work with candidates to improve their resume.
"What makes us really unique is that we use the same ATS software companies use to help ensure that the resume is being parsed correctly" - Jeff Macks, CTO. The software scans a resume, searching for and identifying mistakes and other issues that Applicant Tracking Systems are likely to flag.
"With over 250 resumes sent for a single opening, and more than 90% of companies using resume screening technology, job seekers need to have an effective resume that's optimized for Applicant Tracking Systems" - Michael Krikheli, Co-founder
Zipjob's service has helped candidates secure positions with some of the country's top employers like Google, General Electric, Groupon, Esurance, and Allstate.
Zipjob also offers a free resume review. The review provides some of the issues that can affect how the ATS reads your resume. A professional resume writer will also look over your resume and provide some feedback. Offering a free resume scan, dedicated professional writers, and a 60-day interview guarantee, Zipjob offers to help job seekers of all backgrounds, qualifications, and prospects create their most competitive resume.