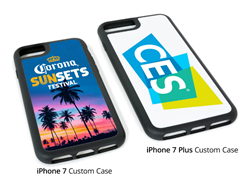 Tech gifts are both amazingly popular and practical. It's not even too late for customization orders!
Chicago, IL (PRWEB) December 13, 2017
Just in time for the holidays, Sunrise has it covered with their holiday gift guide. They offer a wide selection of tech accessories as well as custom printed items. Tech gifts are both amazingly popular and practical. It's not even too late for customization orders!
For all those new phones being received for Christmas, why not protect them with a custom phone case? Sunrise Hitek's Custom Phone Case is the perfect balance between style and function This case features a streamlined appearance with a hard plastic back combined with a durable TPU bumper for added grip and protection. Available now for the iPhone 8 and 8 Plus, and pricing includes matching custom packaging!
Another great gift idea is the Rugged Laptop Case. The rugged laptop case is made of durable ballistic nylon on a rigid frame. Its "always-in" design with our proprietary Cooling Channel™ technology allows the computer to be used without being removed from the case. This is perfect for students, businesspeople, or really anyone who is often on the go.
Sunrise Hitek's Universal Wireless Keyboard is a handy item for tablet and iPad users. This ultra slim wireless keyboard combines clean white keys with fine crafted aluminum. It is universally compatible with all wireless enabled systems such as iPads, laptop and desktop computers, tablets running iOS, Android and Windows operating system.
A rugged iPad case is another useful gift. The Slim Tough Case G6 offers the most rugged protection for your iPad Air 2, Pro 9.7, and iPad 2017. It features a dual-layer rugged design with a protective silicone skin over inner hard case and built-in scratch-resistant screen protector. This case is available in eight different colors.
About Sunrise Hitek
Sunrise Hitek's "Hitek" store, is a leading maker of protective gear for Apple's iPad. The brand changed to üuber when the company starting developing cases for other devices, such as the MacBook, Chromebook, and Samsung devices. Sunrise Hitek Group, LLC, owner of the üuber brand, also operates Sunrise Hitek, a leading digital printing company based in Chicago. As a G7 Qualified Master Printer, Sunrise is uniquely qualified among protective gear makers to offer a wide array of customization options, ensuring the most consistent and accurate color reproduction. Sunrise is an Inc. 5000 company established in 1988 and employs the most advanced equipment and technology, such as G7-certified HP Indigo and UV flatbed presses, and digital die-cutting, to create best-in-class products. A privately-owned enterprise, the company is based in Chicago and sells products worldwide.