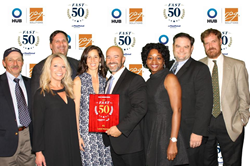 The award is especially meaningful because this is the second year in a row that Level Homes was the fastest-growing private homebuilder in the Triangle area – Ric Rojas, president, Level Homes
RALEIGH, N.C. (PRWEB) December 11, 2017
The Carolinas division of Level Homes has been named one of the 50 Fastest-Growing Private Employers in the vibrant Raleigh-Durham-Chapel Hill, North Carolina market by The Triangle Business Journal.
Level Homes was ranked second overall among all companies honored on this year's Top 50 list, which makes the firm the fastest growing private homebuilder in the area.
Companies named to the 2017 Fast 50 list were selected based on a formula that includes revenue and profit growth for the three previous years. Results were tabulated and analyzed by PricewaterhouseCoopers – a leading accounting and professional services firm – and a Fast 50 partner.
"Being recognized again this year by the experts at The Triangle Business Journal as a member of their 25th Annual Fast 50 list of private firms is a great honor," said Ric Rojas, president of Level Homes.
"The award is especially meaningful because this is the second year in a row that Level Homes was the fastest-growing private homebuilder in the Triangle area," Rojas added. "This honor also comes soon after our associates voted Level Homes one of the Triangle's Best Places to Work."
According to The Triangle Business Journal, the companies named to the Fast 50 list this year employ nearly 15,000 people and are forecast to create more than 3,000 new jobs in the next 12 months.
Level Homes builds high quality new homes and sustainable communities that reflect the way homeowners live today. With 28 employees in the Raleigh area, Level Homes was previously named the fastest-growing firm on Builder Magazine's annual ranking of the Next 100 Builders in the United States.
"Our growth has been achieved by serving one homebuyer at a time and providing them with a great new home and community," said Todd Waguespack, Managing Partner of Level Homes. "All of us at Level Homes are proud of the accomplishments of our team in the Carolinas."
Founded in 2000 with the goal of becoming a Top 10 builder in market share in each market it serves, Level Homes continues to expand.
The company currently builds new homes in five communities in the Triangle, North Carolina area and has expanded to the Wilmington area along the North Carolina coast. The firm also builds in several leading markets across Louisiana. Base prices of new homes range from the low $200s to the low $600s.
Visit https://www.levelhomeslifestyle.com/nc/communities/ to learn more about Level Homes, its award-winning new homes and communities in North Carolina, and the firm's unique approach to building "Life. Style. Home."