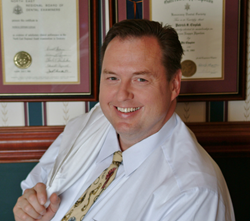 LA PLATA, Md. (PRWEB) December 08, 2017
Dr. Patrick Cieplak, experienced dentist in La Plata, MD, and his team at Cieplak Dental Excellence, are pleased to host a canned food drive from December 4 - 21, 2017 for anyone interested in participating. The family dentistry practice also recently completed a winter coat drive, collecting everything from coats and scarves to hats and gloves for those without warm clothing this year. Dr. Cieplak and his staff provide comprehensive dental services, including dental implants and gum disease treatment, in their state-of-the-art facility.
Those interested in donating items do not need to be patients of the practice to participate in the drive. Dr. Cieplak and his staff encourage donations of non-perishable canned food items that are unopened and not expired. All donations can be dropped off at the front office at Cieplak Dental Excellence. All questions about the food drive can be directed toward the office staff who can be reached by calling the practice.
Cieplak Dental Excellence takes pride in offering high-quality, personalized cosmetic, restorative, and family dentistry services to their patients at their cutting-edge dental practice in La Plata, MD. Dr. Cieplak recommends hygiene cleanings twice a year to safeguard the health of his patient's teeth and gums. As a Fellow of the International Congress of Oral Implantology, he also offers dental implants, a permanent solution to tooth loss that helps restore oral health and smile aesthetics. For patients with gum disease, Dr. Cieplak provides quality periodontal solutions, including osseous surgery, scaling and root planing, and periodontal maintenance. His cosmetic services, including crowns and bridges, orthodontics, and porcelain veneers, are ideal for patients in good oral health who have damaged, misaligned, or missing teeth.
Those who wish to participate in the food drive may drop off items during normal business hours. Those interested in a new family dentist in La Plata, MD, can call Cieplak Dental Excellence at 301-609-9999 or visit http://www.patcieplakdds.com to schedule a new patient appointment.
About the Doctor
Dr. Patrick Cieplak is a general dentist offering personalized dental care to patients in La Plata, MD. Dr. Cieplak is dedicated to learning the latest dental techniques and has completed hundreds of hours of continuing education courses. Dr. Cieplak is one of only 3,000 dentists to receive the Academy of General Dentistry's Master's Degree and he is a Fellow in the International Congress of Oral Implantology as well as Associate Fellow in the American Academy of Implant Dentistry. Cieplak Dental Excellence strives to offer each patient customized treatment to help them achieve proper oral health. To learn more about Dr. Cieplak, his team or the services they offer, please visit http://www.patcieplakdds.com or call 301-609-9999 to schedule an appointment.