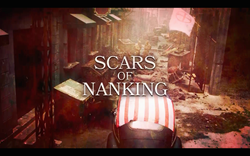 THEY CHOSE TO STAY... AND PAID A PRICE
(PRWEB) December 08, 2017
In Scars of Nanking, American missionaries struggle to save Chinese civilians from slaughter and rape at the hands of Japanese invaders—and to smuggle out evidence of the infamous Nanking Massacre of 1937. Directed by John Ealer (World Wars; Making of the Mob) and produced and written by Frederick Rendina (World Wars; Francisco, the Jesuit).
Four years before the Japanese attack on Pearl Harbor, a small band of foreigners, including American missionaries, choose to stay in the fallen Chinese capital during the brutal "Rape of Nanking" —and help create a safety zone for civilians. These Americans play a key role in bringing evidence of the Nanking Massacre to the rest of the world. One missionary, Father John Magee, films the aftermath of atrocities, while another, George Fitch, risks everything to clandestinely spirit the films out of the city. Dr. Robert Wilson saves countless lives as the only remaining surgeon in Nanking, and a heroic teacher, Minnie Vautrin, prevents hundreds of rapes singlehandedly. Their stories come to life through the letters and diaries they actually wrote during that terrible time as they bear witness to one of the worst wartime atrocities in history.
Renowned experts provide powerful insight, including historian Ian Buruma, editor of the New York Review of Books and author of Year Zero: A History of 1945 and Academy Award nominated filmmaker Christine Choy (In the Name of the Emperor; Who Killed Vincent Chin). Survivors and eyewitnesses add resonance.
Produced by Talking Drum Pictures Inc. for A+E Networks Asia
2017 Jiangsu Broadcasting Corporation
Executive Producer/Producer/Writer...Frederick Rendina; Director...John Ealer
Director of Photography, John Cavill; Line Producer, Donna Ferry; Editor, Melanie Foo Campbell
Special Broadcast: December 13, 2017, 9AM EST
History Channel (US), History Channel (Asia), Jiangsu TV (China)
For Trailer: https://vimeo.com/245262178
Contact: talkingdrumpictures(at)gmail(dot)com to review full episode.
CAST (in order of appearance)
Archibald Steele........... MICHAEL KOLTES
Leslie C. Smith.............. IAIN INGLIS
Tillman Durdin.............. MATTHEW RAY RUGGLES
Radio Operator................ARCHIBALD C. MCCOLL, IV
Robert Wilson................ANDREW LANE CAWTHON
George Fitch................... GREGORY JOSEPH ALLEN
Minnie Vautrin.............. INES LAIMINS 李美思
John Magee......................RANDALL LOWELL
Tsen Shui-Fang.............. YANLING YU
Mr. Chen............................GAO WANGGEN
Japanese Captain............SHIYOU LIU
Japanese Sergeant..........KONAN CHEUNG