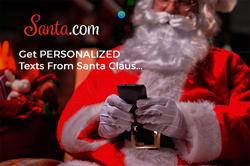 Santa.com provides value beyond pure entertainment and is designed to appeal to everyone who loves Santa from age 0-120.
BOSTON (PRWEB) December 12, 2017
The oldest Santa website in existence, Santa.com, is back for the 2017 holiday season and it has been completely reimagined as the official website of Santa. The comprehensive redesign was developed by parent entrepreneurs and a child educator to create a fun, family-friendly holiday experience that is focused on positive lessons, not presents.
Santa.com teaches true holiday spirit through several innovative features. The Nice List promotes politeness, good habits, and reading. Santa's blog combines entertaining "inside scoop" content with real historical events, and the Santa Libs Christmas games teach parts of speech. Although Santa.com is not intended to be an educational site, it strives to provide more than entertainment, creating an experience parents can feel good about sharing with kids.
The site offers several unique, high-quality services:

Emails from Santa are free and the most genuine service of their kind. Santa.com is the only site in the world that sends detailed, thoughtful replies using the email santa@santa.com.
Text messages from Santa are daily, personalized messages filled with Christmas spirit, amusing facts, and positive values. Santa.com provides them from now until Christmas Day for only $9.99. All texts are written with kids in mind, but provide a bit of humor that adults will appreciate, too.
Christmas coloring templates are free to download and let kids create their own holiday cheer.
Pen written letters from Santa are will be available for Christmas 2018.
Santa.com also provides a full social media experience. The site's official spokes-elf, Garland the Elf, tweets about new products, services, and promotions at Santa.com's official Twitter account, @GarlandTheElf. Santa's personal Twitter account is @Santadotcom. He can also be found on Facebook (facebook.com/santa.com), Instagram (@santa.com), and Pinterest (santa0276).
The all new Santa.com is designed to provide wholesome fun and holiday cheer for everyone from ages 1 to 120. The site also takes privacy seriously, and is in the process of being certified by an FTC-approved Safe Harbor Program to ensure that it meets all privacy and security requirements for sites that provide content for children under 13.
First registered in 1994, Santa.com has changed hands and purposes several times, at various points serving as an email portal, e-commerce site, and social network for children. It was acquired this year by the start-up Santa Holdings II, LLC, a small, family-oriented company with only four members.
The redesigned site is the best version yet, with every aspect tailored to present it as the official site of Santa, from the welcome message to the FAQs to the password reset email. Parents are encouraged to let their children click around freely – nothing on the site will event hint that Santa is not real, or that Santa.com isn't his 100% genuine, official page. It's a fully immersive experience. By the time parents have finished exploring, even they might be convinced that the site was created by elves from the North Pole.