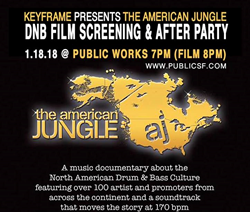 Our goal all along was to have the story of the culture being told by the artists in their own words. There was so much wisdom being shared by all of these amazing people; it's been truly inspiring. - Joshua "Phenetic" Freeman
SAN FRANCISCO (PRWEB) December 12, 2017
Created by Joshua "Phenetic" Freeman and Jeremy "Onket" Ballard, both of whom are also Drum and Bass DJs, "The American Jungle" music documentary follows the roots of DnB and Jungle, as well as their influences on Electronic Music in North America. Looking back on the past 20 years of Drum & Bass music, it explores how 'Jungle' has become a culture as much as a musical genre. It is also the first in-depth documentary to provide an in-depth examination of the history and contributions of current North American 'junglist' communities. The music continues to create a loyal fanbase that has remained just below the surface of mainstream recognition. These factors originally drove the producers to draw upon their collective experiences, contacts, and expertise derived from years as promoters and performers in the Jungle / DnB scene to create a documentary experience.
Onket and Phenetic traveled and documented the local scenes in hot spots throughout the US, such as New York, Los Angeles, San Francisco, Sacramento, Denver, Austin, Miami, and more. "We started off hoping to just simply document the scene that we loved," says Jeremy, "But the project quickly took on a life of its own and as we traveled from city to city and spoke with the artists and fans, we realized we were in the midst of something special and unprecedented in terms of this subculture."
The film features interviews with world-renowned DJs, producers, and promoters, such as Dieselboy, Evol Intent, Danny the Wildchild, DB, Andy C, DJ Hype, Dara, AK1200, Odi, Question Mark, Phantom 45 , R.A.W., and Mac of Konkrete Jungle. Narrated by Joshua "Phenetic" Freeman, "The American Jungle" transports viewers to center stage at massive clubs for exclusive interviews set to music by Mason, D-Star featuring Armanni Reign, Divine Elements, Sinistarr, and Legion, to name a few.
Other prominent figures interviewed include Kevin Gimble of Circle Management, Chris Muniz of Knowledge Magazine, Rob Machete of Respect Drum and Bass, all of whom have and continue to play an instrumental role in the ongoing evolution and development of jungle culture in the United States. "Our goal all along was to have the story of the culture being told by the artists in their own words," Joshua adds. "There was so much wisdom being shared by all of these amazing people, some of whom weren't even known outside of their own local communities; it's been truly inspiring."
In early 2017, the film screened in Denver, Chicago, New York, and LA.
Associate Producer Keyframe-Entertainment is hosting the San Francisco screening and after party at Public Works. The film will screen in the main room, followed by the after party in the loft, with music by dela Moontribe, Kuze and Shadow Spirit, as well as Jamal, who is also featured in the film. There will also be visuals by FieldFXVisuals and Deco by Props2C.
Associate Producer of the film, Julian Reyes of Keyframe-Entertainment states: "We're honored to host the San Francisco screening at Public Works, and bring the Junglist community together to celebrate such important work. Most people don't understand the difficulty that it is to create a documentary. We're happy to continue supporting the legacy and success of 'The American Jungle'."
Purchase tickets at: https://www.ticketfly.com/event/1585717-keyframe-american-jungle-sf-san-francisco/ .
View the event on Facebook: https://www.facebook.com/events/2054822604748140/ .
About "The American Jungle":
Created by Joshua "Phenetic" Freeman and Jeremy "Onket" Ballard, THE AMERICAN JUNGLE is an engaging first-person account that tells the story of jungle/drum & bass music and the unique subculture that it has spawned across the United States.
About Keyframe:
Keyframe-Entertainment is the Executive Producer of "ReInhabiting the Village," "The Bloom Series" Episode 3, and "Electronic Awakening," as well as the Associate Producer of The Polish Ambassador's Permaculture Action Tour film, and is currently venturing into Development and Distribution of VR immersive projects.